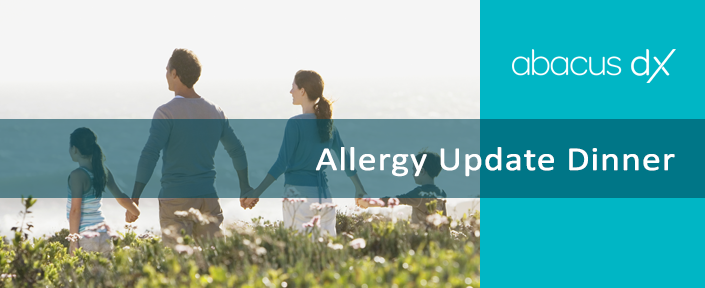 Abacus dx Allergy Update Dinner
Last updated: 29th August, 2018
Below are the details for the Abacus dx Allergy Update Dinner.
Receive your FREE Thermo Fisher Scientific Go Molecular! A Clinical Reference Guide to Molecular Allergy – Part 2.

All attendees will receive a free copy of the Thermo Fisher Scientific Go Molecular Book Part 2.  Visit the Abacus dx booth at the ASCIA Conference to receive Part 1.
Date:
Tuesday 4th September, 6.00-8.00pm (night prior to the ASCIA Conference)

Venue:
The Crossing Room, Crowne Plaza Hotel Canberra (opposite the National Convention Centre).  Please click here for more details on the venue.
Guest Speakers:
Dr Sam Mehr, Paediatric Allergist, Immunologist and Immunopathologist, Dorevitch Pathology
Thimo Ruethers, PhD Student, James Cook University
Maria Bello, Product Manager, Abacus dx
Program:
Please click
here
to view the program.
Dinner and beverages will be provided
Registration:
Registration has now closed.
Go Back