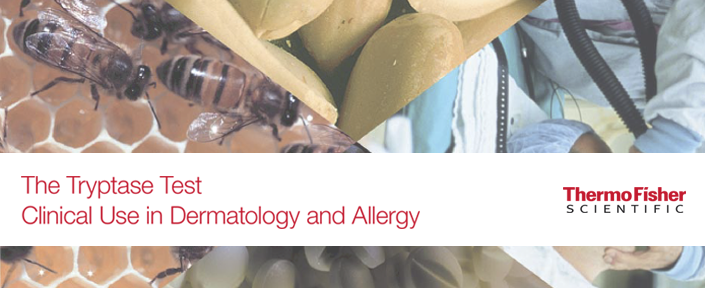 White Paper: The Tryptase Test – Clinical Use in Dermatology and Allergy
Last updated: 27th March, 2020
We are pleased to provide you with a white paper aiming to drive tryptase testing in dermatology and allergy!
This white paper is a compilation of the clinical use of tryptase testing in dermatology and allergy, written by key opinion leaders Dr. Lawrence B Schwartz from Virginia Commonwealth University (the inventor of the tryptase test) and Dr. Prof. Knut Brockow from the Department of Dermatology and Allergy in Munich Technical University.
The paper explains the use of tryptase testing in diagnosing, prognostication and treatment of mast cell disorders. It also focuses on the skin manifestations of mast cell disorders.
Benefits of measuring total tryptase levels under acute and/or baseline conditions:
facilitates detection of mast cell involvement related to elevated mast cell numbers found in systemic mastocytosis, mast cell activation in systemic anaphylaxis or tryptase overproduction in alpha-tryptasemia
detection of normal level reduces the likelihood of these conditions
monitoring of cytoreductive therapy in some forms of systemic mastocytosis
more precise information for monitoring of mast cells disorders by Dermatologists.
Go Back