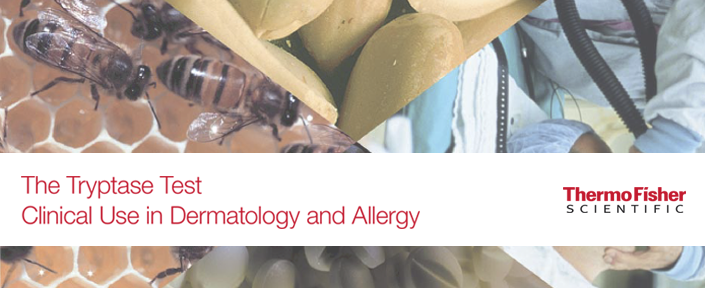 The Tryptase Test Clinical Use in Dermatology and Allergy
Last updated: 03rd February, 2022
Products are for professional/laboratory use only.
Authors:  Knut Brockow1 , Lawrence B Schwartz2 1 Department of Dermatology and Allergy Biederstein, Technical University Munich, Munich, Germany 2 Department of Internal Medicine, Division of Rheumatology, Allergy & Immunology, Virginia Commonwealth University, Richmond, Virginia, USA
Overview:
This white paper provides an overview of the use of tryptase in dermatology and allergy. The paper describes clinical utility of testing tryptase under acute and/or baseline levels to determine mast cell involvement and subsequent elevated mast cells found in systemic mastocytosis, mast cell activation as in systemic anaphylaxis or tryptase overproduction as in alpha-tryptasemia.  
function resizeCTA(){
jQuery(".em_ctab__cta_main_container").each(function(){
var containerHeight = jQuery(this).outerHeight(); var containerWidth = jQuery(this).width();
var content = jQuery(this).find('.em_ctab__cta_content p'); var button = jQuery(this).find('.em_ctab__cta_button');
button.css('top', (containerHeight/2 - button.outerHeight()/2) );
var marginRight = button.outerWidth() + 25;
content.css('margin-right', marginRight);
});
}
jQuery( window ).resize(function() { resizeCTA(); });
jQuery(document).ready(function(){ resizeCTA(); });
Go Back