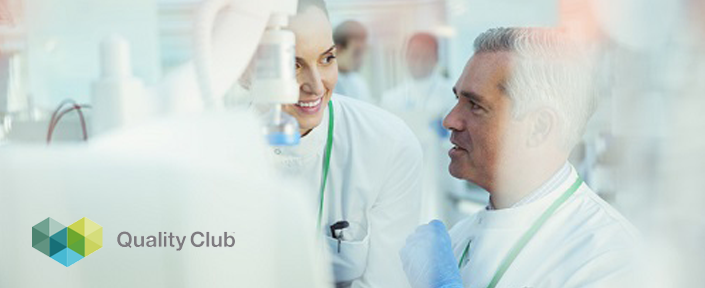 Phadia Quality Club
Last updated: 21st August, 2023
Products are for professional/laboratory use only.
Quality Club is an External Quality Assessment Program for Specific IgE, Total IgE, ECP and EliA Autoimmunity
As a member of Quality Club, you are part of an international testing community that not only uses the same precision in in vitro allergy diagnostic tools, but shares a commitment to monitoring and maintaining high standards for laboratory performance.
Participating in Quality Club means more than just statistics. Membership enables you to monitor your laboratory's performance for specific and total IgE, as well as ECP and EliA Autoimmunity testing month by month, and provides an early indication of system error.
The demand for better quality assessment is growing. The well-documented information Quality Club provides, helps members monitor performance and secure high standards of accuracy and reliability. Physicians who use member laboratories can be confident in the results they receive.
---
How to Become a Member:
Quality Club membership is open to laboratories operating Phadia Laboratory Systems.  Click on the below link to request a membership quote.
General Information:

The following programs are available in Quality Club:
Quality Club Specific IgE
Quality Club Total IgE
Quality Club ECP
Quality Club EliA Autoimmunity
 
Each program kit contains reagents and materials for a 4-month-cycle. For Lab Community members, all results are submitted automatically. Please allow 2-4 weeks for delivery of samples from date of order. Samples are available for shipping from Thermo Fisher from the dates listed in the table below in the 'in stock' column.
| | | | |
| --- | --- | --- | --- |
| Item# | Description | Customer Order month | Testing Cycle |
| PU10929801 | ImmunoCAP Quality Club Specific IgE | December | January-April |
| | | April | May-August |
| | | August | September-December |
| PU10929701 | ImmunoCAP Quality Club Total IgE | December | January-April |
|   |   | April | May-August |
|   |   | August | September-December |
| PU10934401 | ImmunoCAP Quality Club ECP  | February | March-June |
|   |   | June | July-October |
|   |   | October | November-February |
| PU83100601 | Quality Club EliA Autoimmunity | January | February-May |
|   |   | May | June-September |
|   |   | September | October-January |
---
Monthly Reports:
​Every month, the assay results from participating laboratories are compiled by Thermo Fisher Scientific.
The reports are based on a computer analysis of the laboratory assay results using established statistical methods. They include detailed yet easy-to-interpret data given in concentrations and presented as histograms.
The results are given as concentrations, deviations in percent from common means, and as deviation scores. The laboratory can see the number of other laboratories participating and compare its own results to the other participants results.
---
---
Go Back