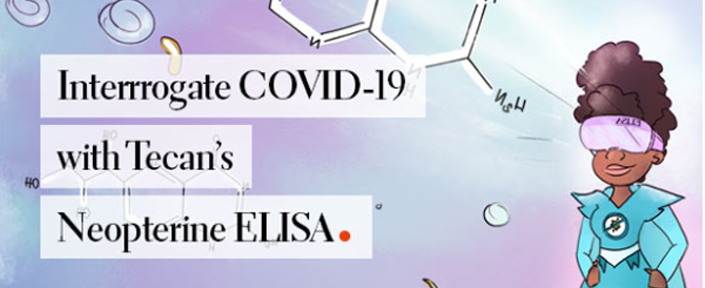 Interrogate COVID-19 with Tecan's Neopterine ELISA
Last updated: 12th November, 2021
Products are for professional/laboratory use only.
Applying Tecan products to research
Neopterin indicates a plethora of infections before the onset of symptoms. Today I want to highlight a paper investigating the relationship of neopterin and Covid-19.
Neopterin levels were measured with the Tecan: Neopterin ELISA (RE59321).
 

---
Key message:
Innate immune activation during Covid-19 infection is associated with pernicious clinical outcome.
 
Background:
Coronavirus disease 2019 (Covid-19) became a pandemic.
Pre-existing comorbidities play a detrimental role in the course of Covid-19.
Previous coronavirus epidemics, notably SARS-CoV, were associated with increased serum neopterin levels.
Neopterin serves as a sign of acute innate immunity in response to viral infection. Authors propose neopterin may serve as: A biomarker of SARS-CoV-2 viral infection and an indicator of Covid-19 disease severity.
Neopterin levels and survival of patients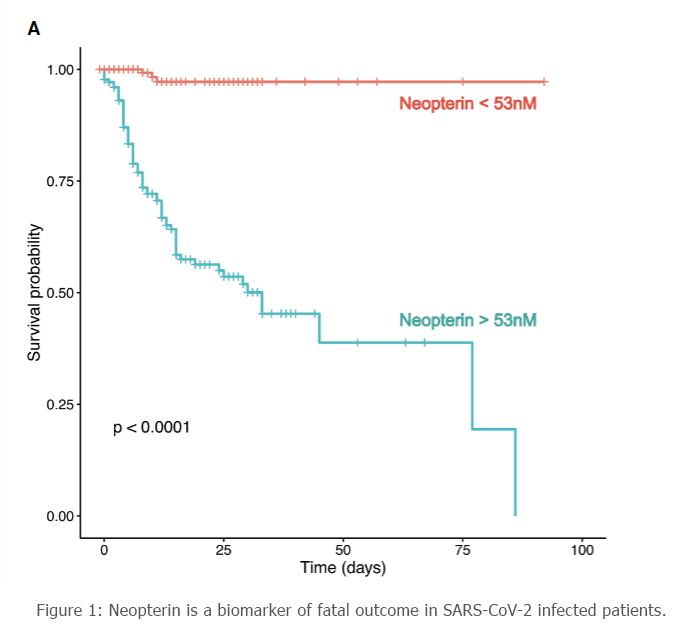 The authors investigated the course of patients from the time symptoms occurred to discharge or death. The survival curves for Covid-19 patients (above) indicate that elevated neopterin levels (>53nm) correlated with a lower probability of survival, while lower levels (<53nM) in serum concentration led to a higher chance of survival.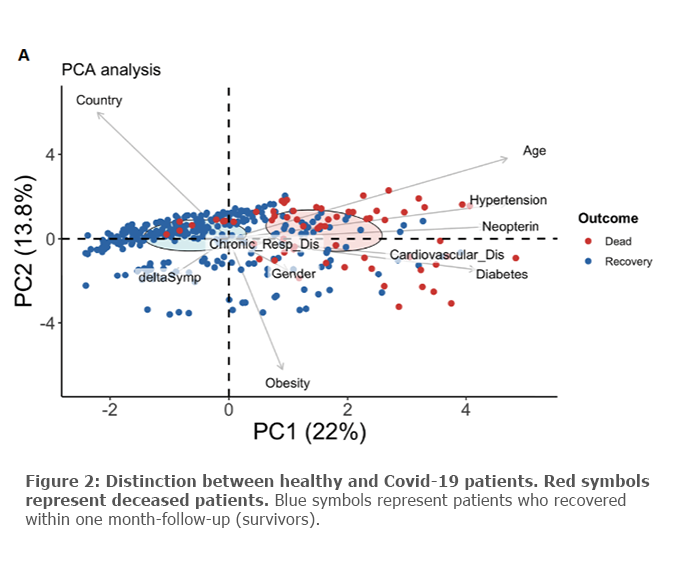 A principal component analysis (PCA) was applied and neopterin levels in serum were measured with the Tecan Neopterin ELISA. In order to determine the effect of some combinations of comorbidities the PCA was generated, which would allow for stratification of the patients according to fatal clinical outcome. This principal component analysis allowed to make a clear distinction between Covid-19 patients who recovered from those who died.
Study outcome
Severe and critically ill SARS-CoV-2 infected patients had elevated neopterin blood levels.
Neopterin levels >19nM stratified healthy individuals from Covid-19 patients 
Neopterin levels >53nM differentiated non-survivors from survivors 
---
Reference:
Chauvin, M., Larsen, M., Quirant, B., Quentric, P., Dorgham, K., Royer, L., … & Sauce, D. (2021). Elevated neopterin levels predict fatal outcome in SARS-CoV-2-infected patients. Frontiers in cellular and infection microbiology, 764
function resizeCTA(){
jQuery(".em_ctab__cta_main_container").each(function(){
var containerHeight = jQuery(this).outerHeight(); var containerWidth = jQuery(this).width();
var content = jQuery(this).find('.em_ctab__cta_content p'); var button = jQuery(this).find('.em_ctab__cta_button');
button.css('top', (containerHeight/2 - button.outerHeight()/2) );
var marginRight = button.outerWidth() + 25;
content.css('margin-right', marginRight);
});
}
jQuery( window ).resize(function() { resizeCTA(); });
jQuery(document).ready(function(){ resizeCTA(); });
Go Back