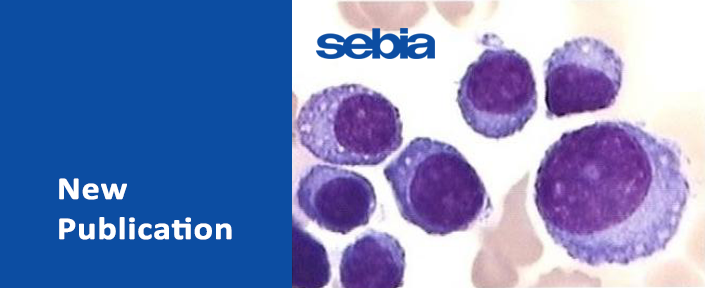 New Publication: A Novel Approach to Estimating M-Protein Concentration: Capillary Electrophoresis Quantitative Immunosubtraction
Last updated: 02nd February, 2022
Products are for professional/laboratory use only.
Abacus dx and Sebia are pleased to advise you of a new publication:

Title: A Novel Approach to Estimating M-Protein Concentration: Capillary Electrophoresis Quantitative Immunosubtraction 
Authors:  Lee F. Schroeder, Forest Huls, Christopher L. Williams, Shih-Hon Li, and David F. Keren
Article Summary:
Current multiple myeloma guidelines consider M-proteins under 1 g/dL to be unmeasurable and, due to masking by non-immunoglobulin proteins, recommend nephelometric IgA measurements for IgA M-proteins migrating in the β-region.
This inability to accurately quantify low-concentration M-protein presents a barrier to early identification of relapse and subsequent treatment adjustment. In this manuscript, the authors show proof of principle for a method of quantitative immunosubtraction, which improves M-protein measurement by reducing the masking effects of both polyclonal immunoglobulin and non-immunoglobulin proteins.
This pilot shows the method can reduce the limit of M-protein quantification below 0.1 g/dL in the difficult-to-measure β-region.
Due to copyright we are unable to share the full article.
Abacus dx is the exclusive distributor for Sebia in Australia only.
function resizeCTA(){
jQuery(".em_ctab__cta_main_container").each(function(){
var containerHeight = jQuery(this).outerHeight(); var containerWidth = jQuery(this).width();
var content = jQuery(this).find('.em_ctab__cta_content p'); var button = jQuery(this).find('.em_ctab__cta_button');
button.css('top', (containerHeight/2 - button.outerHeight()/2) );
var marginRight = button.outerWidth() + 25;
content.css('margin-right', marginRight);
});
}
jQuery( window ).resize(function() { resizeCTA(); });
jQuery(document).ready(function(){ resizeCTA(); });
Go Back