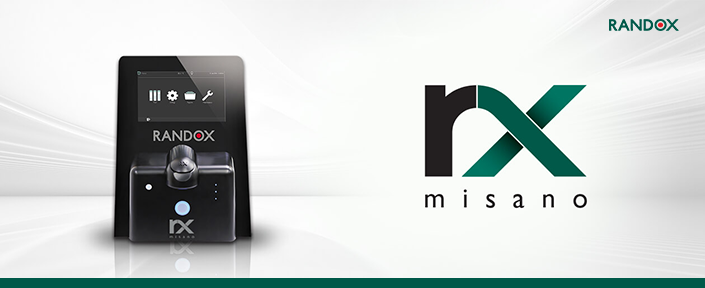 RX misano – High-Performance Semi-Automated Clinical Chemistry Testing
Last updated: 04th February, 2019
The RX misano shines a new light on semi-automated Clinical Chemistry testing with increased auto-functionality and ground-breaking technology. Revolutionising the RX series with its bold look, innovative design, and outstanding performance, it sets the benchmark for the next generation of RX series clinical chemistry analysers.
The RX misano has been developed with the user in mind by incorporating a responsive touch-screen display. The sleek ergonomic design boasts intuitive user-friendly software allowing for test menu personalisation for ease of use.
Abacus dx is the exclusive distributor for Randox in New Zealand.
System Overview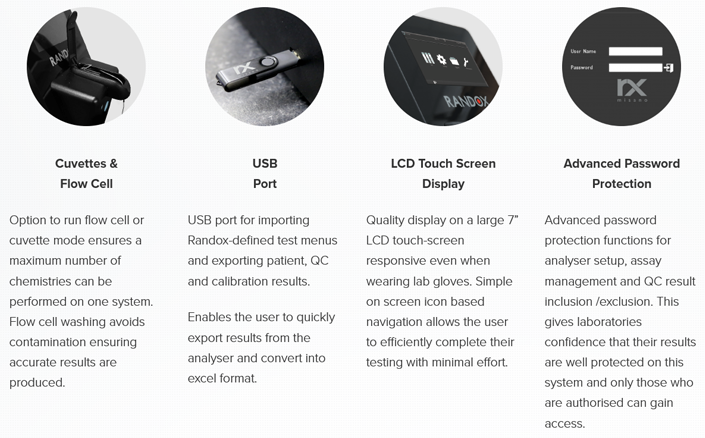 ---
---
Benefits of the RX misano
1. A consolidated test menu

Expand your testing capabilities on one intuitive platform
Extensive dedicated test menu, including; routine chemistries, lipids, antioxidants, cardiac and diabetes testing allows laboratories to expand their testing capabilities and bring more testing in-house reducing additional costs of sending tests out.
Offering consolidation opportunities enables laboratories to carry out a large number of chemistry tests on one platform providing real cost savings.
---
2. Accurate results
Achieve accurate patient results first time, every time
Increased automatic features including automatic flagging of errors and advanced built in QC software detects problems as early as possible allowing performance to be monitored ensuring confidence in results.
High quality results save operator time avoiding unnecessary additional costs of repeat testing reducing the possibility of patient misdiagnosis.
---
3. Flexibility and versatility
Increased functionality maximises testing abilities
Up to 10 wavelengths can be generated via solid state filter device (340-700nm standard) giving the RX misano a wide range of testing abilities ensuring a multitude of chemistries are possible on one system.
Run flow cell or cuvette mode to ensure that a maximum number of tests can be performed on one intuitive clinical chemistry analyser.
---
4. Advanced security functionalities

Guarantees patient results are safely secured
Advanced password protection functions for analyser setup, assay management and QC result inclusion / exclusion. This ensures only those who should have access can gain access to this system.
Complete confidence with results securely stored and patient confidentiality adhered to. Unique user names and passwords also increase traceability of results.
---
5. Cost savings
Use smart technology designed to avoid additional costs
User-friendly maintenance screen guides the user through simple step-by-step instructions removing the cost of expensive engineer call outs.
Easy to use maintenance function ensures the user can easily amend any errors efficiently, minimising downtime in the laboratory resulting in reduced costs of sending tests and removing the possibility of delayed patient results.
---
6. Increased convenience with a small footprint

Developed to improve efficiency in your laboratory
Extremely small footprint taking up minimal space in a laboratory, without minimising the range of testing capabilities, means it is very easily moved throughout various departments with little effort.
Multiple languages available offering unrivalled convenience for multiple users, allowing each user to navigate through the software in their native language
---
---
Go Back