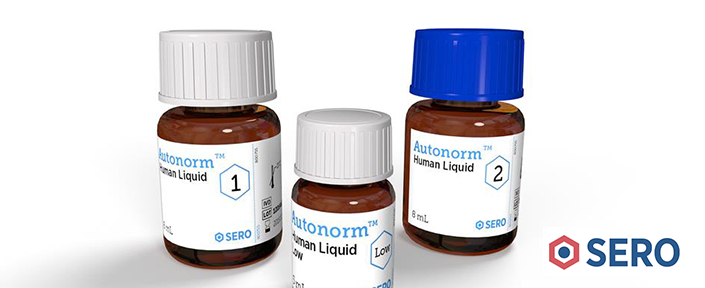 Sero Autonorm Human Liquid – now available in three levels
Last updated: 16th January, 2017
In order to cover the needs for a clinical chemistry QC material at the low end of the reference range, SERO has developed Autonorm™ Human Liquid Low. This QC material has been developed in dialogue with a number of laboratories to fit the specific for specific analytes such as albumin, glucose, Na , Ca , Cl, serum proteins and various therapeutic drugs. 
With Autonorm Human Liquid Low, L-1 and L-2, SERO is offering a product line of high quality for the clinical chemistry laboratory. Please note that the first lot of AHL not cover the complete list of analytes.

Seronorm™ Cardiac Acute Liq – with specially adapted troponin concentrations
Seronorm™ Cardiac Acute Liq is unique in that it contains the broadest set of acute markers in a control on the market, including the complete panel of cardiac markers and other acute markers for diagnosis of life-threatening conditions such as sepsis, brain trauma, deep vein thrombosis and ectopic pregnancy.
New lots of Seronorm Cardiac Acute Liq are now available. Our R&D department has further improved Troponin T and CK-MB which shows significantly better performance. Some parameters have somewhat less stability in opened vials, we refer to the lot-specific product documentation for detailed information.
We put great emphasis at adapting analyte concentrations to levels of particular clinical relevance. This has demonstrated to be a very important sales argument to our end users. Some examples of relevant target values for the new lots are Troponin T concentration of 12 ng / L (Roche e602 ) and troponin I concentration of 33/18 ng/L (L-1A, L-1B, Abbott Architect). NT-proBNP, BNP and PCT levels are also of particular interest. Note that analytical data for homocysteine on enzymatic methods are not available. Please study the lot-specific product documentation for more detailed information.
The following analytes are available:
Click here to find out more >
Click here to request a quote >
Go Back