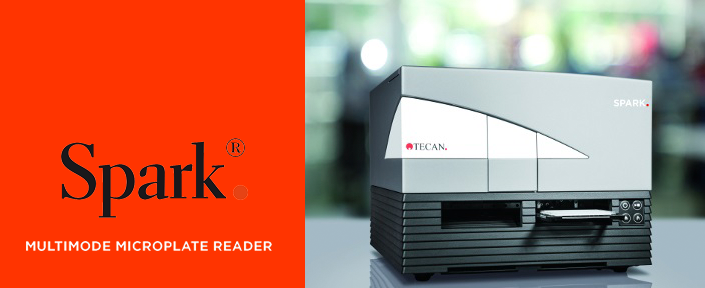 Spark – Multimode Microplate Reader
Last updated: 26th February, 2018
Abacus dx now distributes the Tecan range of detection and D300e instruments in New Zealand. The Spark multimode microplate reader platform offers solutions to suit virtually any life science research or drug discovery application. It allows researchers to freely configure the reader to their current needs, and is fully upgradable to access other techniques and features in the future.
Spark provides unparalleled wavelength accuracy, with a dedicated High Speed Monochromator for absorbance measurements. Together with a cuvette port and the patented NanoQuant Plate™, it provides an all-in-one solution for ELISAs, low volume DNA/protein quantification and fast spectral scanning. At the heart of the instrument are its unique Fusion Optics for fluorescence, allowing any combination of filters or monochromators on both the excitation AND emission sides for every measurement; you no longer have to choose between sensitivity OR flexibility for your assays. This option features the latest generation QuadX Monochromators™ and dichroic mirrors, offering variable bandwidth selection and full wavelength flexibility to provide exceptional measurement performance and speed.
Spark's multi-color luminescence module offers unparalleled flexibility for virtually any luminescence measurement, including flash, glow, BRET and laserbased Alpha Technology. The instrument's bright field cell imaging capabilities, together with its incubator-like environmental control, enable long-term cell-based experiments and live monitoring of cell growth. The conditional workflow automation minimizes hands-on times and increases reproducibility, enabling long-term experiments with precious cell lines
To ensure complete confidence in your data, Spark's Te-Cool™ module allows the user to set the reader temperature at or below ambient, offering complete environmental independence for more accurate and reliable results, regardless of the time of day or season.
Spark Capabilities:
Absorbance – incl. UV/VIS spectra
Fluorescence top & bottom – incl. spectra
Time resolved fluorescence (TRF) – incl. spectra
FRET
TR-FRET
Fluorescence Polarization (FP)
Luminescence – glow, flash, multicolor, spectra
AlphaSreen®, AlphaLISA® & AlphaPlex®
Automated live cell imaging – cell counting and confluence
Absorbance cuvette port
NanoQuant plate
Temperature control (RT+3°C – 42°C)
Liquid dispensers with reagent heater and stirrer
CO2 & O2 control
Evaporation protection (humidtiy cassette)
Te-Cool™ (active temperature regulation 18-42 °C)
Integrated lid handling
QC tools for IQOQ services
Connect™ microplate stacker
ELISA
Low-volume DNA/RNA quantification
Nucleic acid labeling efficiency
Protein quantification
HTRF®, LanthaScreen®
Transcreener®
DLR®
BRET – including NanoBRET®
Cell counting and viability
Confluence assessments
Cell migration and woundhealing
Go Back