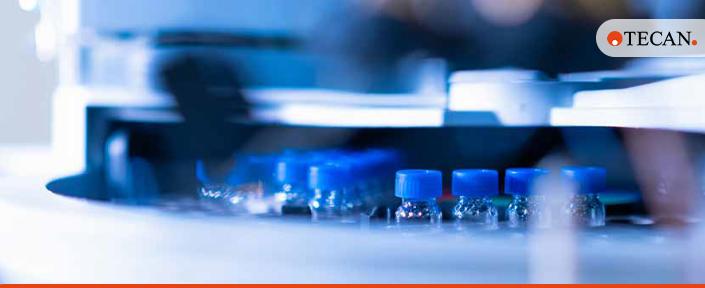 Steroid Panel LC-MS Solution
Last updated: 26th August, 2022
Products are for professional/laboratory use only
The Steroid Panel LC-MS kit is an IVD reagent kit for the measurement of 18 steroids from human plasma (EDTA) and serum using solid phase extraction and liquid chromatography-mass spectrometry technology. The analytes are 17 naturally occurring steroid hormones including 11-deoxycorticosterone 11-deoxycortisol, 17-hydroxypregnenolone, 17-hydroxyprogesterone, 21-deoxycortisol, aldosterone, androstenedione, corticosterone, cortisol, cortisone, dehydroepiandrosterone, dehydroepiandrosterone sulfate, dihydrotestosterone, estradiol, estrone, progesterone, testosterone and the synthetic glucocorticoid drug dexamethasone (Table 1).
Table 1. The calibrator ranges covered by this kit
Analyte
Calibrator ranges ng/mL
11-Deoxycorticosterone
0.04 – 5.13
17-hydroxyprogesterone
0.10 – 12.82
21-Deoxycortisol
0.10 – 12.82
Aldosterone
0.10 – 4.59
Androstenedione
0.10 – 12.82
Corticosterone
0.30 – 38.47
Dexamethasone
0.50 – 64.12
DHEA
1.0 – 45.9
DHEAS
50 – 6412
Dihydrotestosterone
0.15 – 1.57
Cortisone
0.5 – 64.1
Cortisol
2.0 – 256.5
Progesterone
0.10 – 12.82
11-Deoxycortisol
0.10 – 12.82
Testosterone
0.04 – 13.42
17-Hydroxypregnenolone
0.30 – 38.47
Estrone
0.01 – 1.28
Estradiol
0.03 – 3.85
Given the strong association of steroid hormones and endocrine disorders, steroid testing has become an integral part in diagnostic procedures and is recommended by many clinical practice guidelines.1-5 LC-MS based assays have evolved into the gold standard and considered state of the art in steroid hormone testing,6-9 and their use have also been endorsed by clinical practice guidelines.1,3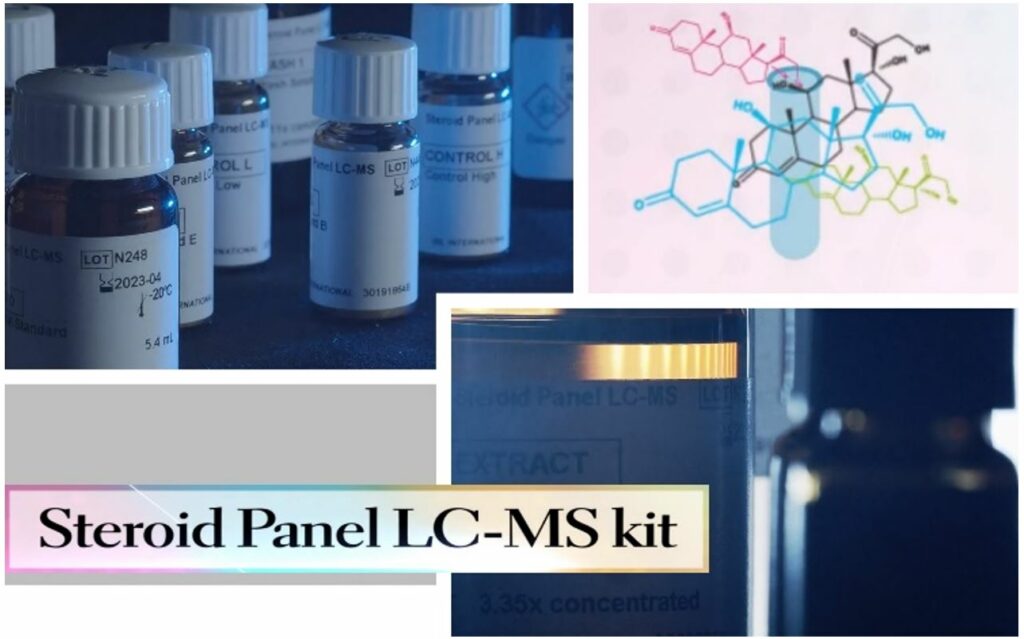 The Steroid Panel LC-MS assay is a liquid chromatographic mass spectrometric assay (LC-MS), based on the principle of chromatographic separation and measured on a mass spectrometer. The assay is semiautomated requiring general-purpose laboratory instruments and consumables such as extraction manifolds, evaporators, liquid chromatography mass spectrometry system, vortexer, roller mixer and pipettes to execute the test. Test results may be calculated based on a standard curve and compared to laboratory established reference ranges from healthy individuals (i.e., reference intervals). The test kit is intended for professional laboratory use by trained personnel. The test kit is not for home or layperson use.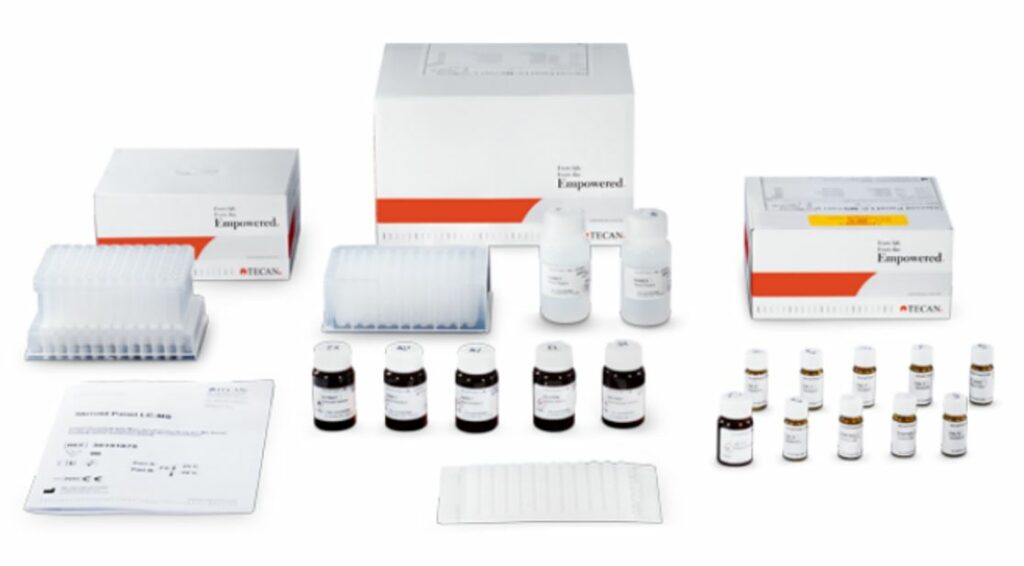 References:
1. Fleseriu, M. et al., Consensus on Diagnosis and Management of Cushing's Disease: A Guideline Update. The Lancet Diabetes & Endocrinology 2021, 9 (12), 847–875.
2. Fassnacht, M. et al., Management of Adrenal Incidentalomas: European Society of Endocrinology Clinical Practice Guideline in Collaboration with the European Network for the Study of Adrenal Tumors. European Journal of Endocrinology 2016, 175 (2), G1–G34.
3. Speiser, P. W. et al., Congenital Adrenal Hyperplasia Due to Steroid 21-Hydroxylase Deficiency: An Endocrine Society Clinical Practice Guideline. The Journal of Clinical Endocrinology & Metabolism 2018, 103 (11), 4043–4088.
4. Nieman, L. K. et al., The Diagnosis of Cushing's Syndrome: An Endocrine Society Clinical Practice Guideline. The Journal of Clinical Endocrinology & Metabolism 2008, 93 (5), 1526–1540.
5. Bornstein, S. R. et al., Diagnosis and Treatment of Primary Adrenal Insufficiency: An Endocrine Society Clinical Practice Guideline. The Journal of Clinical Endocrinology & Metabolism 2016, 101 (2), 364–389.
6. Krone, N.; et al., Gas Chromatography/Mass Spectrometry (GC/MS) Remains a Pre-Eminent Discovery Tool in Clinical Steroid Investigations Even in the Era of Fast Liquid Chromatography Tandem Mass Spectrometry (LC/MS/MS). The Journal of Steroid Biochemistry and Molecular Biology 2010, 121 (3), 496–504.
7. Grebe, S. K.; Singh, R. J. LC-MS/MS in the Clinical Laboratory – Where to From Here? Clin Biochem Rev 2011, 32 (1), 5–31.
8. Conklin, S. E.; Knezevic, C. E. Advancements in the Gold Standard: Measuring Steroid Sex Hormones by Mass Spectrometry. Clinical Biochemistry 2020, 82, 21–32.
9. Seger, C.; Salzmann, L. After Another Decade: LC–MS/MS Became Routine in Clinical Diagnostics. Clinical Biochemistry 2020, 82, 2–11.
function resizeCTA(){
jQuery(".em_ctab__cta_main_container").each(function(){
var containerHeight = jQuery(this).outerHeight(); var containerWidth = jQuery(this).width();
var content = jQuery(this).find('.em_ctab__cta_content p'); var button = jQuery(this).find('.em_ctab__cta_button');
button.css('top', (containerHeight/2 - button.outerHeight()/2) );
var marginRight = button.outerWidth() + 25;
content.css('margin-right', marginRight);
});
}
jQuery( window ).resize(function() { resizeCTA(); });
jQuery(document).ready(function(){ resizeCTA(); });
Go Back