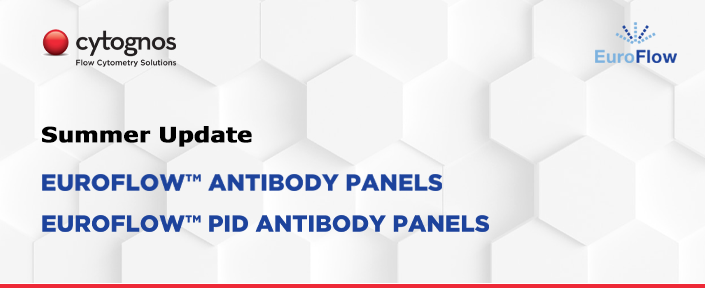 Cytognos Summer Update
Last updated: 18th November, 2021
Products are for professional/laboratory use only. New monoclonal antibodies directed against kappa and lambda chains are now available from Cytgnos to compliment the high-quality polyclonal range.  See also the EuroFlow posters of workflow and panel selection for HaemOnc and PID investigations.
New recombinant monoclonal antibodies against Kappa and Lambda light chains
More flexibility in your panel construction: monoclonal or polyclonal antibodies available.
Cytognos' new anti-kappa and lambda light chain antibodies have been developed using recombinant technology to ensure reproducibility between batches.
Advantages of monoclonal antibodies: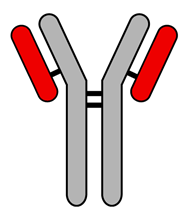 Higher specificity
Reduced nonspecific labeling
Reduced cross-reactivity
Greater reproducibility guaranteed
Reduced batch-to-batch variability
Advantages of polyclonal antibodies:
Higher affinity
Higher robustness
Greater tolerance to small changes such as polymorphisms
---
EuroFlow™ stepwise onco-hematology and PID workflows
Cytognos, as an EuroFlow™ supporting company has developed completely standardized solutions based on their methodology to help you give the better patient care and improve your laboratory efficiency. Download now the EuroFlow™ stepwise onco-hematology and PID workflows prepared by our team just for you.
function resizeCTA(){
jQuery(".em_ctab__cta_main_container").each(function(){
var containerHeight = jQuery(this).outerHeight(); var containerWidth = jQuery(this).width();
var content = jQuery(this).find('.em_ctab__cta_content p'); var button = jQuery(this).find('.em_ctab__cta_button');
button.css('top', (containerHeight/2 - button.outerHeight()/2) );
var marginRight = button.outerWidth() + 25;
content.css('margin-right', marginRight);
});
}
jQuery( window ).resize(function() { resizeCTA(); });
jQuery(document).ready(function(){ resizeCTA(); });
Go Back