Infinicyt – Analysis software of the future, available right now
Last updated: 28th October, 2022
Products are for professional/laboratory use only.
Infinicyt analysis software solutions
Massive files, more parameters, more complexity! What is the solution?
Flow cytometry investigations are evolving continuously with expectations to acquire and analyse more events and more parameters. And with bigger files comes increased analytical complexity with more gating, finer population characterisation and deeper rare event analysis. So how can we keep up?

The unique and innovative analysis tools embedded in Infinicyt give you the diagnostic power and control to manage these challenges – now and into the future.
Infinicyt Features
Intuitive free-hand gating
See it, gate it, click to assign. No quadrants – uses 'comparison to normal' approach
Innovative analysis tools
Multidimensional analysis plots – 2D and 3D PCA embedded, reference imaging, clustering, file merging, statistic plots, batch analysis, compass tool, maturation tool'

Super-efficient CPU usage
Superior speed for managing massive files (eg 10+ million events), multiple files, unlimited parameters, unlimited gates, special analysis tools
Analysing files from any cytometer
Including spectrum profiling and mass cytometry systems
Interfacing with LIS and internet
Options to report directly or via the LIS. Remote access
Database comparison
For selected IVD assays (Cytognos LST, ALOT, PIDOT and MM MRD) you have the option of automated, expert-guided gating, identification and reporting using EuroFlow databases of normal and abnormal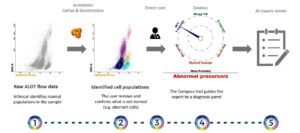 ---
function resizeCTA(){
jQuery(".em_ctab__cta_main_container").each(function(){
var containerHeight = jQuery(this).outerHeight(); var containerWidth = jQuery(this).width();
var content = jQuery(this).find('.em_ctab__cta_content p'); var button = jQuery(this).find('.em_ctab__cta_button');
button.css('top', (containerHeight/2 - button.outerHeight()/2) );
var marginRight = button.outerWidth() + 25;
content.css('margin-right', marginRight);
});
}
jQuery( window ).resize(function() { resizeCTA(); });
jQuery(document).ready(function(){ resizeCTA(); });
Go Back