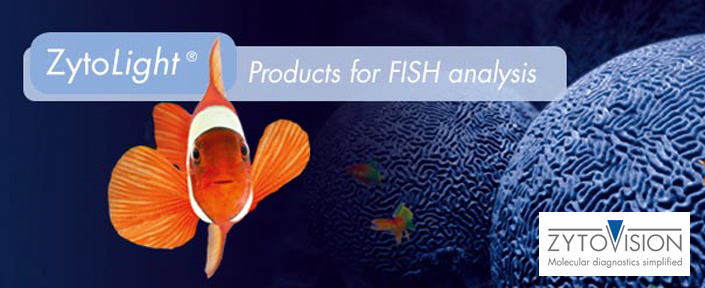 Looking for FISH probes for Haematology and Sarcoma indications?
Last updated: 16th July, 2020
Zytovision's ZytoLight® system uses directly labeled FISH probes. The unique ZytoLight® Direct Label System II and ZytoLight® Repeat Subtraction Technique provide improved signal intensity and lead to advanced specificity and less background of all our probes.
ZytoLight® products allow for reliable, highly sensitive and specific detection of genetic aberrations (e.g. translocations, deletions, amplifications and chromosomal aneuploidies).
function resizeCTA(){
jQuery(".em_ctab__cta_main_container").each(function(){
var containerHeight = jQuery(this).outerHeight(); var containerWidth = jQuery(this).width();
var content = jQuery(this).find('.em_ctab__cta_content p'); var button = jQuery(this).find('.em_ctab__cta_button');
button.css('top', (containerHeight/2 - button.outerHeight()/2) );
var marginRight = button.outerWidth() + 25;
content.css('margin-right', marginRight);
});
}
jQuery( window ).resize(function() { resizeCTA(); });
jQuery(document).ready(function(){ resizeCTA(); });
Go Back