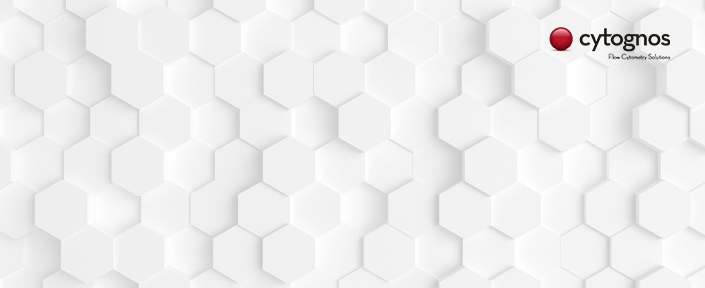 Multi-epitope CD38 Reagent
Last updated: 17th August, 2022
Products are for professional/laboratory use only.
Finding plasma cells in myeloma patients on CD38 MoAb therapies
Along with the popular and effective use of monoclonal CD38 therapies for myeloma comes some technical challenges in the laboratory. These therapies can block the targets of diagnostic CD38 antibodies in flow cytometry assays, thus interfering with detection and enumeration of normal and abnormal plasma cells in samples from these patients, post treatment.
To counter this phenomenon Cytognos have developed an oligoclonal CD38 product which 'lights up' plasma cells even in the presence of therapeutic CD38 in these patients. The antibodies in Cytognos CD38 Multi-epitope find the 'other' CD38 epitopes not specifically targeted by the therapeutic.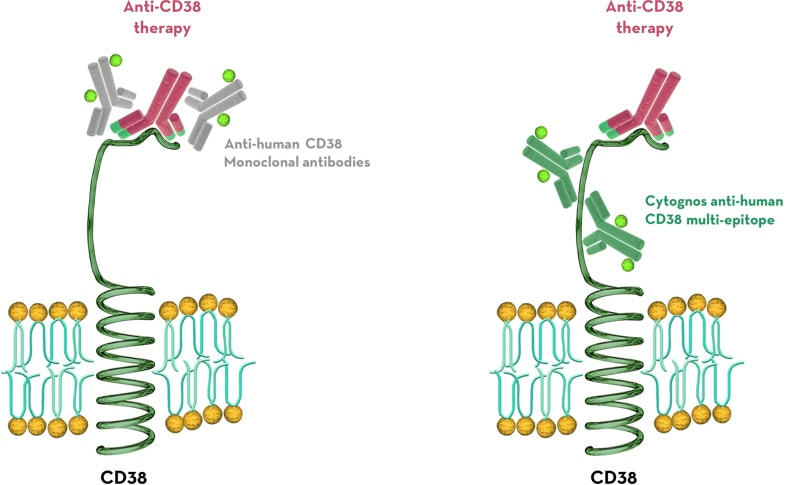 Below are dot plots from flow cytometry investigations of bone marrow which show the impact of monoclonal CD38 therapy on plasma cell detection.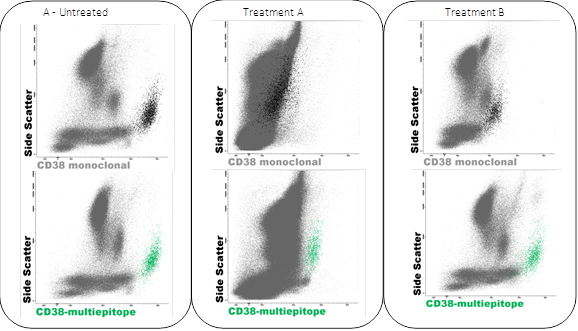 Note the substantially reduced CD38 signal in treated patients using conventional monoclonal CD38 (black populations) compared to the normal/near normal CD38 signal using Cytognos CD38 Multi-epitope (green populations).
Product code: CYT38F2
Cytognos CD38 Multi-epitope is FITC labelled.
Cytognos CD38 Multi-epitope is also incorporated into the Cytognos IVD Myeloma MRD kit (product code CYTMMMRD8).
function resizeCTA(){
jQuery(".em_ctab__cta_main_container").each(function(){
var containerHeight = jQuery(this).outerHeight(); var containerWidth = jQuery(this).width();
var content = jQuery(this).find('.em_ctab__cta_content p'); var button = jQuery(this).find('.em_ctab__cta_button');
button.css('top', (containerHeight/2 - button.outerHeight()/2) );
var marginRight = button.outerWidth() + 25;
content.css('margin-right', marginRight);
});
}
jQuery( window ).resize(function() { resizeCTA(); });
jQuery(document).ready(function(){ resizeCTA(); });
Go Back