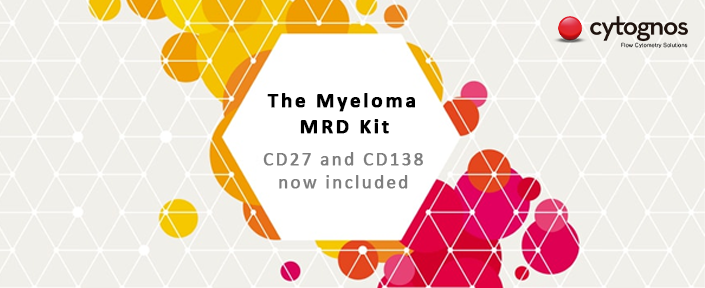 The Myeloma MRD Kit now has CD27 and CD138 included
Last updated: 03rd June, 2022
Products are for professional/laboratory use only.
The MM MRD kit is now released with new kit components: CD138 BV421 and CD27 BV510 antibodies. The presence of all the needed reagents in the kit makes it easier for laboratories to adopt this methodology while improving stock management and reducing QC testing.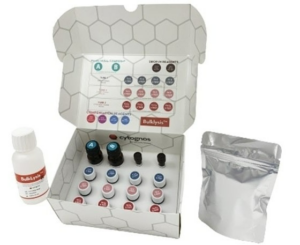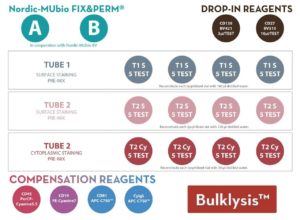 ---
Minimal residual disease in Multiple Myeloma (MM MRD)
The Multiple Myeloma Minimal Residual Disease Panel (MM MRD) is composed of two tubes, each containing 8-markers, designed for the qualitative and semiquantitative identification and discrimination of malignant and normal plasma cells.

The use of two tubes is an important quality control of the process since the test is performed in two aliquots of the sample; the presence of kappa and lambda provides information on the clonality of suspected cells. The use of the bulklysis™ allows for an increased sensitivity due to the high number of cells obtained.
This MM MRD combination is available as a pre-mixed lyophilized reagent and intended to be used with the automated gating and identification tool within the Infinicyt™ analysis software.
---
Ordering Information

*Refer to the 2022 Cytognos price list.
**RUO kit is also available outside the European Union.
---
Products are CE marked in compliance with the European In Vitro Diagnostic Medical Device Directive 98/79/EC.
Cytognos™, Bulklysis™, APC-C750™ and Infinicyt™ are trademarks or registered trademarks of Cytognos, S.L. 
Fix&Perm® is a trademark or registered trademark of Nordic Immunological Laboratories BV.
function resizeCTA(){
jQuery(".em_ctab__cta_main_container").each(function(){
var containerHeight = jQuery(this).outerHeight(); var containerWidth = jQuery(this).width();
var content = jQuery(this).find('.em_ctab__cta_content p'); var button = jQuery(this).find('.em_ctab__cta_button');
button.css('top', (containerHeight/2 - button.outerHeight()/2) );
var marginRight = button.outerWidth() + 25;
content.css('margin-right', marginRight);
});
}
jQuery( window ).resize(function() { resizeCTA(); });
jQuery(document).ready(function(){ resizeCTA(); });
Go Back