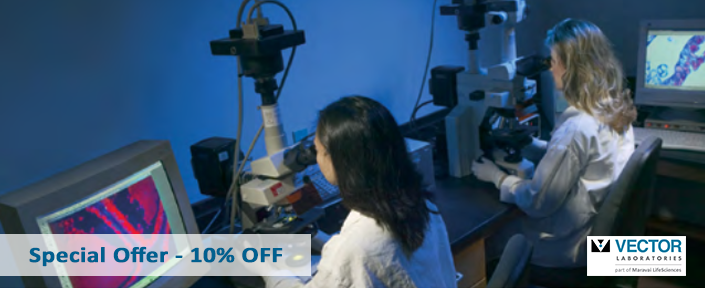 ImmPRESS® Polymer Reagents for Automated IHC Platforms
Last updated: 05th December, 2018
Vector Special Offer – 10% OFF (see table below)

ImmPRESS polymer reagents and accessory products have now been proven to perform on open IHC automated staining platforms. The open automated stainers trialled were:
Dako Autostainer Plus
Leica Bond Rx
Ventana Discovery Ultra
The results of this study have been put together in a comprehensive report complete with full protocols used on each platform, and images of the corresponding tissue section staining generated.
---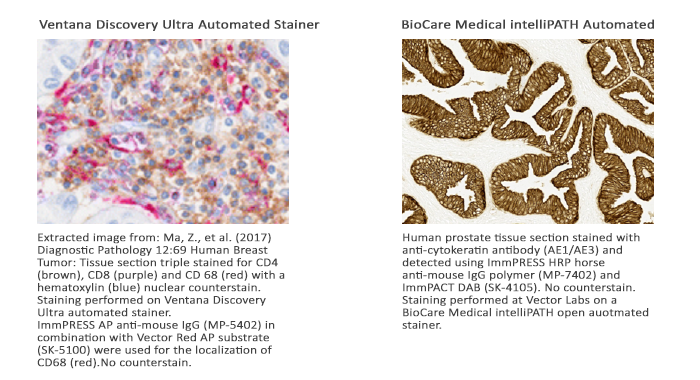 The  ImmPRESS  Polymer  detection  kits,  enzyme  substrates  and  accessory  reagents  can  be  applied  to  open  automated  staining  systems,  and  generate  equivalent  IHC  staining  results  compared  with  the  instrument  manufacturers  recommended  reagents.
Key Products for Automated Staining Systems:
| | | |
| --- | --- | --- |
| PRODUCT | UNIT SIZE | CATALOG NUMBER |
| BLOCKING SOLUTIONS | | |
| BLOXALL HRP/AP Enzyme Block | 100 mL | VESP6000 |
| 2.5% Normal Horse Serum | 50 mL | VES2012 |
| 2.5% Normal Goat Serum | 50 mL | VES1012 |
| DETECTION REAGENTS | | |
| ImmPRESS HRP (Horse) Anti-Rabbit IgG Polymer Kit | 15 mL, 50 mL | VEMP7401 |
| ImmPRESS HRP (Goat) Anti-Rabbit IgG Polymer Kit | 15 mL, 50 mL | VEMP7451 |
| ImmPRESS HRP (Horse) Anti-Mouse IgG Polymer Kit | 15 mL, 50 mL | VEMP7402 |
| ImmPRESS HRP (Goat) Anti-Mouse IgG Polymer Kit | 15 mL, 50 mL | VEMP7452 |
| ImmPRESS HRP (Horse) Anti-Goat IgG Polymer Kit | 15 mL, 50 mL | VEMP7405 |
| ImmPRESS HRP Universal (Horse) Anti-Mouse/Anti-Rabbit IgG Polymer Kit | 15 mL, 50 mL | VEMP7500 |
| SUBSTRATES | | |
| ImmPACT DAB | 120 mL | VESK4105 |
| ImmPACT DAB EqV | 400 mL | VESK4103 |
10% discount on the products listed above during December 2018*
---
Terms & Conditions
*Orders must be received by COB Friday 21st December 2018
The promotional code 'VECTOR_December' must be clearly stated when placing orders
Not to be used in conjunction with any other offer
Discount only applies to new orders received on or prior to 21st December 2018 
---

Go Back