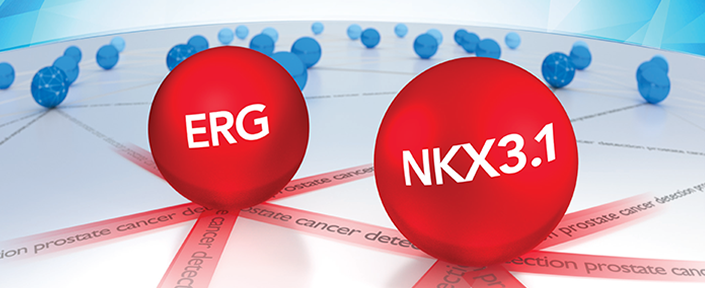 Novel Nuclear Transcription Factors for Prostate:
Last updated: 21st January, 2016
Over 220,000 men are diagnosed in the United States each year with prostate cancer, and over 27,000 deaths occur annually as a result.1 Early detection and definitive diagnosis is important! Scientific advancements in cancer detection have developed rapidly to keep up with the prevalence of this disease. Recent detection advancements include the development of antibodies NKX3.1 and ERG. These transcription factors aid in the immunohistochemical diagnosis of prostate cancer. These nuclear immunostains allow pathologists to connect the dots to give a more accurate diagnosis of prostate carcinoma.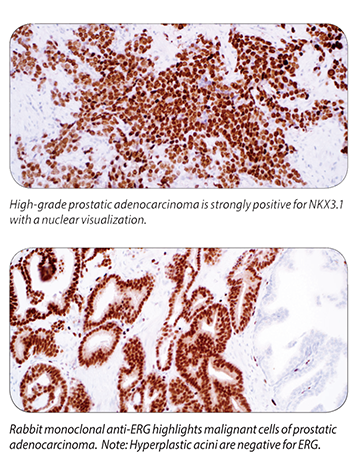 Novel Nuclear Transcription Factors for Prostate:
NKX3.1

– Differentiates neoplastic prostate tissue from nonprostate such as bladder, lung, and liver2

ERG

– Highest specificity for prostate carcinoma versus benign prostate3
Cell Marque NKX3.1 and ERG antibodies are labeled as IVD in Australia and New Zealand, available in multiple volumes, and are compatible with several automated platforms.
Find out more about Cell Marque's NKX3.1 antibody here >
Find out more about Cell Marque's ERG antibody here >
Click here to view our recent Spotlight on ERG (EP1111) blog post
References:
1. http://bit.do/prostatecancer (www.cancer.org)
2. Gurel B, et al. Am J Surg Pathol. 2010; 34: 1097-105
3. Tomlins SA, et al. Arch Pathol Lab Med. 2012; 136:935-46
Go Back