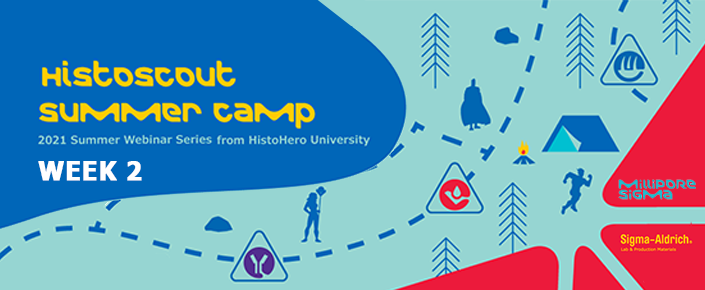 Register for Cell Marque HistoHero's Summer Camp Webinars – WEEK 2
Last updated: 06th October, 2021
Complete the registration form below to receive the webinar on demand for Cell Marque HistoHero's Summer Camp Webinars – WEEK 2.
Week 2: Case Studies in Pathology
Case studies are records of clinical practices that can be used as teaching tools for practitioners and students.  These scenarios allow the observer to determine what they think that the most likely medical course of action should be based on the information at hand.  In anatomic pathology, case studies allow the observer to determine what the likely diagnosis is based on the tools given, usually including patient history and presentation, routine histology, and immunohistochemistry (IHC) or molecular testing. 
The IHC tests that are run as adjunct tests to the H&E can give a lot of helpful information to the pathologist, and the techniques and algorithms incorporated may play a big part in the likely direction a pathologist goes with their diagnosis.  In this webinar, we look at some examples of these case studies and the influence that IHC may have on them.

function resizeCTA(){
jQuery(".em_ctab__cta_main_container").each(function(){
var containerHeight = jQuery(this).outerHeight(); var containerWidth = jQuery(this).width();
var content = jQuery(this).find('.em_ctab__cta_content p'); var button = jQuery(this).find('.em_ctab__cta_button');
button.css('top', (containerHeight/2 - button.outerHeight()/2) );
var marginRight = button.outerWidth() + 25;
content.css('margin-right', marginRight);
});
}
jQuery( window ).resize(function() { resizeCTA(); });
jQuery(document).ready(function(){ resizeCTA(); });
Go Back