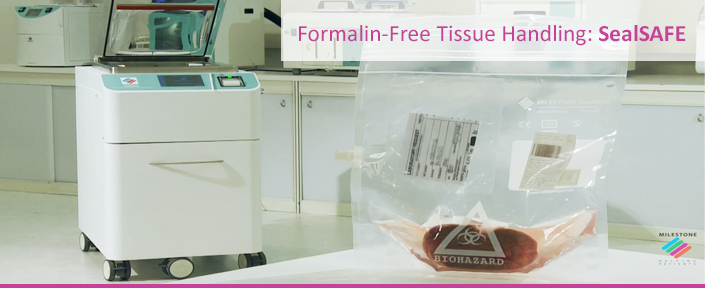 Milestone SealSAFE: No more formalin exposure when transporting tissue from Theatre to the Lab
Last updated: 19th February, 2019
Reduce formalin exposure with tissue processing in your operating theatre and laboratory with the SealSAFE vacuum sealing system from Milestone.
Formalin-Free Tissue Handling: SealSAFE:  No more formalin exposure when transporting tissue from Theatre to the Lab
Milestone SealSAFE features:

Under vacuum sealing & UV + Formalin filling
More than 900 units worldwide
Improved staff safety
Standardized fixation
Reduced formalin cost and archiving storage
In Australia, formaldehyde and xylene monitoring are assessed against the Exposure Standards for Atmospheric Contaminants in the Occupational Environment – National Exposure Standards (NOHSC: 1003 (1995) as published by Safe Work Australia). Exposure standards for formaldehyde are 1.0 ppm for 8hr TWA and exposure standards for xylene are 80ppm 8hr TWA. 
In the Histopathology Laboratory, the traditional procedures of collection, transportation and archiving of pathology specimens, along with use of formaldehyde and xylene, can vary between laboratories.  The use of Milestone SealSAFE technology at the starting point of sample generation (the surgery room), pathology accessioning, and in the grossing area provides a dynamic and flexible solution with benefits to all staff involved in sample handling and preparation.
Our SealSAFE allows for a safer working environment in both the theatre and Anatomic Pathology by working in a formalin/fixative free manner. By doing so, you can monitor the ischemic time and control/start the tissue fixation step following the Pathology lab directions. This is of paramount importance for the sake of reliable IHC and effective Molecular tests as well as for tissue banking.
Milestone SealSAFE is the innovative solution to Formalin management.  By accurately dispensing the right amount of formalin according to the specimen weight, you can ensure optimized fixation and quality histological diagnosis resulted from a safe environment.
Practical tissue handling, sealing and archiving (Self-standing bags, no plastic buckets needed anymore).   

Please read the attached poster on a SealSAFE experience, recently made public in November last year by the Brain Biobank in Vigo – "A new archiving system for the brain biobank in Vigo" (Spain)
The implementation of the SealSAFE vacuum system has help reduced staff exposure to toxic and genotoxic formaldehyde fumes in the lab.  Since their tissues are stored under vacuum, they are able to preserve the Formalin chemical properties of the samples leading to higher quality compared to traditional methods. 
---
Go Back