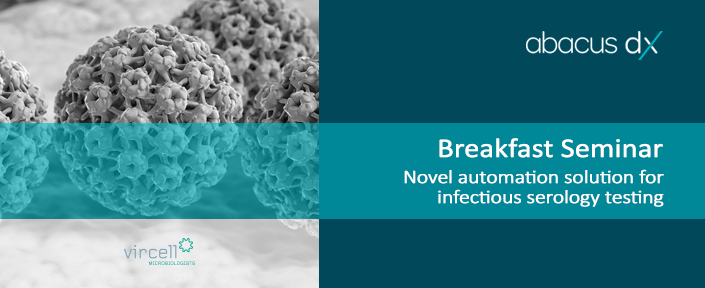 Abacus dx Breakfast Seminar recap
Last updated: 02nd February, 2022
Products are for professional/laboratory use only.
The first Abacus dx  Infectious Disease breakfast seminar was held on the 15th October on the Gold Coast. The meeting focused on novel automated solutions for infectious serology testing.
We had  fantastic speakers who presented on their experiences using the Vircell VirClia® instrument for infectious serology. We also launched the new VirClia® Lotus – a fully automated, random access, continuous feed instrument to streamline infectious serology testing. See details from the presentations below:
---
Paul Tustin
HOD Immunology, Wellington SCL, New Zealand
VirClia® Measles IgG and other assay experience
Summary
In this presentation Paul discussed the current measles outbreak in New Zealand, the number of cases and the introduction of the VirClia® system as a testing platform for measles IgG.  He outlined the current work that it's being performed in the lab to determine the most suitable cut off for the assay that better adapts to the local population.
---
Dr Linda Hueston
Principal Scientist, Serology Group Manager, Westmead Hospital – NSW Health Pathology, Australia
Evaluation of C. trachomatis IgG and Syphilis IgM Monotest VirClia®
Summary
Westmead Hospital evaluated C. trachomatis IgG Monotest and Syphilis IgM Monotest on the VirClia in order to replace manual methods such as ELISA and FTA. The evaluation outcome concluded the VirClia® is an "elegant and sophisticated" solution: it is fit for purpose, suitable replacement of current methods in terms of sensitivity and specificity. Moreover, the VirClia® instrument was easy to use and maintain, removed the need to batch test and facilitated stat and on call testing.
---
Joaquin Ortiz
Scientific Advisor, Vircell, Spain
Any sample, any test, any time: New paradigm in infectious diseases serology
Summary
VirClia® Lotus is the newest fully automated chemiluminescent instrument for  infectious disease serology testing. This system is a continuous load platform that fits in every laboratory as a complementary system, and offers an efficient and cost effective solution for low volume tests (including IgM), send away tests and esoteric infectious serology such as: Ross River Virus, Coxiella, Hydatidosis, Legionella, Dengue, Parvo among others.
---
function resizeCTA(){
jQuery(".em_ctab__cta_main_container").each(function(){
var containerHeight = jQuery(this).outerHeight(); var containerWidth = jQuery(this).width();
var content = jQuery(this).find('.em_ctab__cta_content p'); var button = jQuery(this).find('.em_ctab__cta_button');
button.css('top', (containerHeight/2 - button.outerHeight()/2) );
var marginRight = button.outerWidth() + 25;
content.css('margin-right', marginRight);
});
}
jQuery( window ).resize(function() { resizeCTA(); });
jQuery(document).ready(function(){ resizeCTA(); });
Go Back