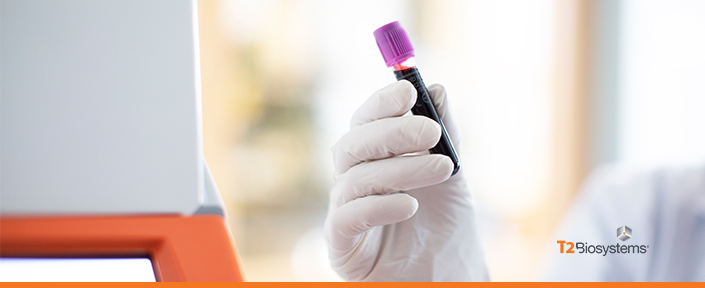 Antimicrobial and Resource Utilization with T2 Magnetic Resonance for Rapid Diagnosis of Bloodstream Infections: Systematic Review with Meta-analysis of Controlled Studies
Last updated: 05th January, 2023
Products are for professional/laboratory use
Expert Review of Medical Devices, a peer-reviewed medical journal, published meta-analysis findings confirming that the utilization of T2 Magnetic Resonance (T2MR®) technology for identification of bloodstream infections (BSIs) provides faster time to detection, faster transition to targeted microbial therapy, faster de-escalation of empirical therapy, and shorter Intensive Care Unit (ICU) and hospital stay versus the current blood culture standard of care1.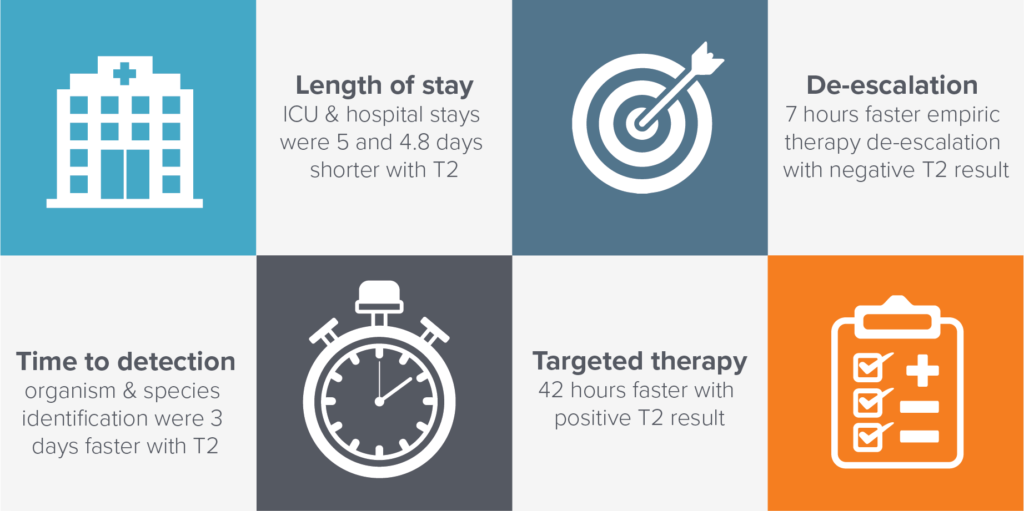 The current standard of care for patients suspected of BSIs or sepsis requires 1-7 days to provide species ID and susceptibility results. This information is used by clinicians to target therapy and optimize treatment of the identified infectious pathogen.
The T2Bacteria® and T2Candida® Panels are able to provide results directly from whole blood in three to five hours, often before the second dose of empiric antibiotic therapy is administered, without the need to wait days for a positive blood culture.
Kits available for Research Use Only in Australia
---
Recent and upcoming T2 Biosystems Scientific Presentations
"Culture Independent Rapid Diagnostics Impact on Sepsis Management"
June 20, 2021, 12:30 PM – 1:30 PM (on-demand)
Speakers: Dr. James Snyder, Dr. Todd McCarty, Dr. Aparna Ahuja
"Breaking New Ground in Sepsis Diagnosis and Management with Non-Culture-Based Tests"
June 23, 2021, 2:45-3:15 ET
Speakers: Dr. Debra Goff, Dr. Aparna Ahuja
"The crucial role of rapid diagnostics in the early detection of secondary bacterial and fungal infections complicating COVID-19"
July 12, 2021, 9:30-10:30 CET
Speakers: Dr. Thomas Walsh, Dr. Tamara Seitz, Dr. Aparna Ahuja
---
References
Giannella, Maddalena, et al. "Antimicrobial and Resource Utilization with T2 Magnetic Resonance for Rapid Diagnosis of Bloodstream Infections: Systematic Review with Meta-analysis of Controlled Studies." Expert Review of Medical Devicesjust-accepted (2021).
---
function resizeCTA(){
jQuery(".em_ctab__cta_main_container").each(function(){
var containerHeight = jQuery(this).outerHeight(); var containerWidth = jQuery(this).width();
var content = jQuery(this).find('.em_ctab__cta_content p'); var button = jQuery(this).find('.em_ctab__cta_button');
button.css('top', (containerHeight/2 - button.outerHeight()/2) );
var marginRight = button.outerWidth() + 25;
content.css('margin-right', marginRight);
});
}
jQuery( window ).resize(function() { resizeCTA(); });
jQuery(document).ready(function(){ resizeCTA(); });
Go Back