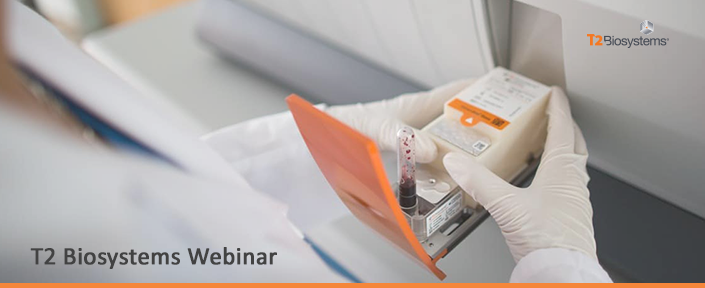 Clinical experience using T2 Biosystems for the rapid identification of sepsis causing pathogens
Last updated: 07th February, 2020
Abacus dx is pleased to have recently partnered with a US based company – T2 Biosystems, that have developed rapid (3-5 hours from blood collection), direct detection from whole blood diagnostic kits for Candida, ESKAPE pathogens, and recently a Resistance Panel.
The T2 system has been recognised as fulfilling a need within the current regime of testing and treatment for sepsis through the provision of timely results that impact clinical decision making.
Using MRI technology, published data supports T2 Candida being more sensitive for invasive candidiasis than blood culture 1,2,3. T2 Magnetic Resonance (T2MR) was also shown to lead to a greater than 7-fold reduction in time to appropriate therapy of 5 hours vs 39 hours prior to implementation of T2MR4,5,6,7.
Webinar Details
On Monday 23rd of March from 12pm – 1pm (AEDT), Viki Barr, PharmD, BCPS-AQ ID, Medical Science Liaison at T2 Biosystems, will be running a presentation on the clinical experience and impact on stewardship from hospitals worldwide using the T2 panels.
---
1 Mylonakis et al. Clinical Infectious Diseases 2015 DOI:10.1093/cid/ciu959.
2 Pfaller, M. A., Wolk, D. M., & Lowery, T. J. (2016). T2MR and T2Candida: novel technology for the rapid diagnosis of candidemia and invasive candidiasis. Future microbiology, 11(1), 103-117.
3 Arendrup et al. "Diagnostic performance of T2Candida among ICU patients with risk factors for invasive candidiasis" OFID 2019.
4 Nicole M. Wilson, George Alangaden, Robert J. Tibbetts, Linoj P. Samuel, Susan L. Davis, Rachel M. Kenney (2017); T2 Magnetic Resonance Assay Improves Timely Management of Candidemia. JAMS 2017; 1:12-18.
5 Estrada, S. J. Real World Value of T2Candida Lee Memorial Hospital. Slide Presentation ASM 2016.
6 Kateon H et al. Utilization of T2Candida Panel for the rapid detection of Candida species in a large community hospital. Poster Presentation IDWeek 2016.
7 Kenney, R., Dwivedi, S., Kendall, R. et al. Implementation of T2 Magnetic Resonance into the Antimicrobial Stewardship Program Improves Management of Candidemia at HFHS. Poster Presentation IDWeek 2016.
Go Back