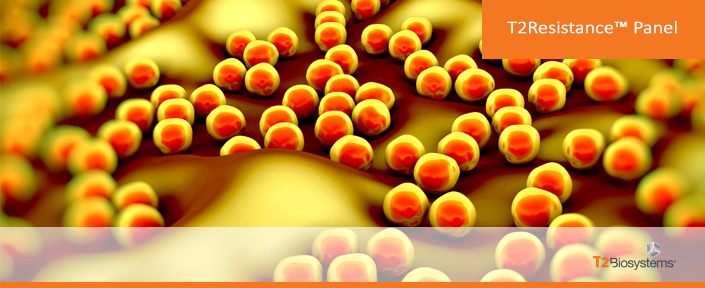 T2Resistance™ Panel
Last updated: 05th January, 2023
Products are for professional/laboratory use only.
Powered by T2MR® technology, the T2Resistance™ panel addresses the unmet clinical need for faster detection of antimicrobial resistance.
The T2Resistance Panel can detect 13 resistance genes from both gram-positive and gram-negative pathogens direct-from-blood. There is broad inclusivity of resistance variants and ≤10 CFU/mL detection demonstrated for all targets. Developmental studies have shown no cross-reactivity or inhibition by common interfering substances. Studies have also shown a dramatic decrease in time to resistance gene identification.1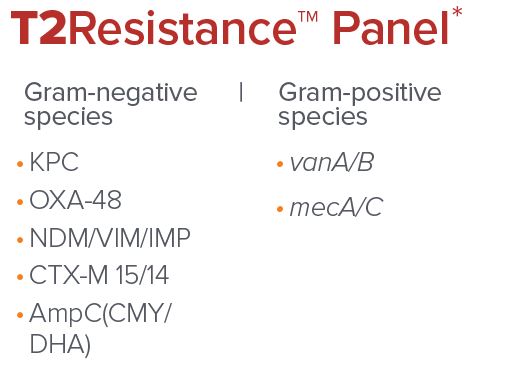 Who might benefit from T2Resistance™ Panel?
High risk patients/patients selected to use last line antibiotics
Patients who are part of a stewardship program
Patients with history of antibiotic use
Patients not responsive to current therapy
Patients who are immunocompromised
Kits available for Research Use Only
---
---
1. De Angelis G, editor. Clinical experience with a bacteria panel and resistance markers direct from whole blood. ECCMID; 2019.
*RUO version available in Australia. IVD version available in New Zealand.
function resizeCTA(){
jQuery(".em_ctab__cta_main_container").each(function(){
var containerHeight = jQuery(this).outerHeight(); var containerWidth = jQuery(this).width();
var content = jQuery(this).find('.em_ctab__cta_content p'); var button = jQuery(this).find('.em_ctab__cta_button');
button.css('top', (containerHeight/2 - button.outerHeight()/2) );
var marginRight = button.outerWidth() + 25;
content.css('margin-right', marginRight);
});
}
jQuery( window ).resize(function() { resizeCTA(); });
jQuery(document).ready(function(){ resizeCTA(); });
Go Back