Critical Care

Werfen
Werfen's easy-to-use whole blood gas testing technology lets you perform time-sensitive diagnostic tests efficiently and accurately, in the central laboratory or at the point of care. Self-contained, multi-use testing cartridges and iQM®, Werfen's proprietary Intelligent Quality Management system, automates quality control to assure reliable results with no maintenance. Werfen's GEM® instrument family measures pH, blood gases, CO-Oximetry, electrolytes, metabolites and more, and can provide a comprehensive analysis on a single sample of whole blood. Abacus dx distributes Werfen's critical care products in New Zealand only.

Aidian (formerly Orion Diagnostica)
Aidian (formerly Orion Diagnostica) builds well-being by specialising in accurate and affordable clinical diagnostic and hygiene monitoring tests, which are easy to use and provide fast results. The range includes the point-of-care QuikRead go instrument that provides rapid results for CRP, CRP+Hb, iFOBT and Strep A as well as the newly released HbA1c assay.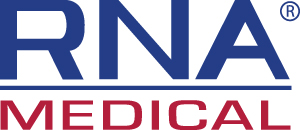 RNA Medical
RNA Medical is a developer and supplier of innovative products for the hospital, point of care and physician's office markets.