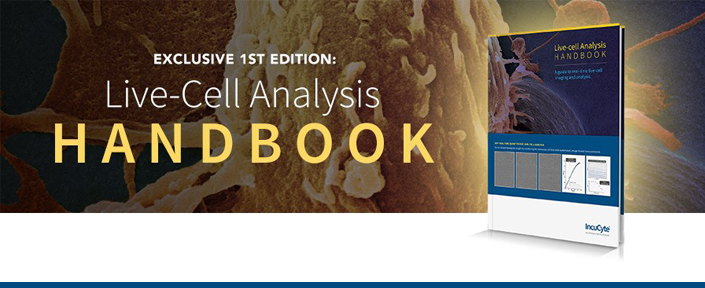 Get your FREE Live-Cell Analysis Handbook
Last updated: 12th September, 2018
Change can happen in an instant.
However, most laboratories lack processes for continual monitoring of cells prior to, or during, analysis to capture crucial or rare events. Important questions such as "Are the cells supposed to look like that?" and "Have they grown, changed, or differentiated overnight?" are often overlooked or addressed subjectively, compromising the validity and reliability of any experimental observations and, ultimately, the reliability and integrity of your research.
Real-time live-cell analysis is redefining the possibilities and workflows of cell biology. 

The combination of ease of use, throughput, and non-invasive measurement enables researchers to monitor and measure cell behaviors at a scale and in ways that were previously not possible. Information-rich, image-based measurements are combined with the convenience and throughput of microplate assays. This technology transforms research, accommodating multiple users and applications simultaneously, thus providing a powerful workflow that supports an entire research team. Live-cell analysis is ideally complementary to other cell analysis platforms, such as flow cytometry, analyte detection or RNA/DNA analysis methods, expanding on traditional end-point cell monitoring and analysis methods by enabling researchers to:
Ask new questions
Get new answers
Improve productivity
Protect your cells
Printed, hard-bound version available on a first come, first served basis and only while stocks last. 
See what your cells are doing and when they do it with the IncuCyte® S3 Live-Cell Analysis System.
Change can happen in an instant. Whether simply assaying cell health or more complex processes like migration, invasion, or immune cell killing, the Next-Generation IncuCyte® S3 System, reagents and consumables allow you to continuously see what happened and when it happened — without ever removing your cells from the incubator.
The next-generation IncuCyte S3 accommodates multiple users and applications seamlessly and combines information-rich, image-based analysis with the convenience and throughput of microplate assays.
Go Back