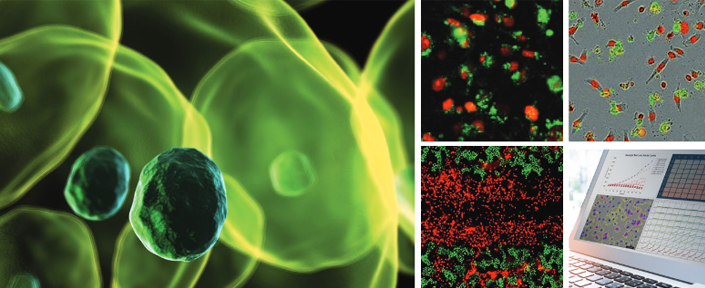 Get your free copy of the 2nd Edition Live-Cell Analysis Handbook
Last updated: 19th September, 2018
Change can happen in an instant. However, most laboratories lack processes for continual monitoring of cells prior to, or during, analysis to capture crucial or rare events. Important questions such as "Are the cells supposed to look like that?" and "Have they grown, changed, or differentiated overnight?" are often overlooked or addressed subjectively, compromising the validity and reliability of any experimental observations and, ultimately, the reliability and integrity of your research.
Real-time live-cell analysis is redefining the possibilities and workflows of cell biology. The combination of ease of use, throughput, and non-invasive measurement enables researchers to monitor and measure cell behaviors at a scale and in ways that were previously not possible.
Live-cell analysis is ideally complementary to other cell analysis platforms, such as flow cytometry, analyte detection or RNA/DNA analysis methods, expanding on traditional end-point cell monitoring and analysis methods by enabling researchers to:
Ask new questions
Get new answers
Improve productivity
Protect your cells
Download your personal copy of the new second edition!
With over 3,000 downloads, our Live-Cell Analysis Handbook is the most comprehensive guide to real-time cell imaging and analysis, directly from the incubator.
Learn about:
Cell Culture Quality Control Assays
Kinetic Cell Health and Viability Assays
Kinetic Cell Migration and Invasion Assays
Studying Protein Dynamics with IncuCyte® Live-Cell Analysis (New!)
Kinetic Assays Utilizing Complex Models (New!)
Complete the below form to receive your personal copy of the 2nd Edition, Live-Cell Analysis Handbook for the most up to date information on live-cell analysis applications and robust assay solutions on the IncuCyte® S3 Live-Cell Analysis System.
Go Back