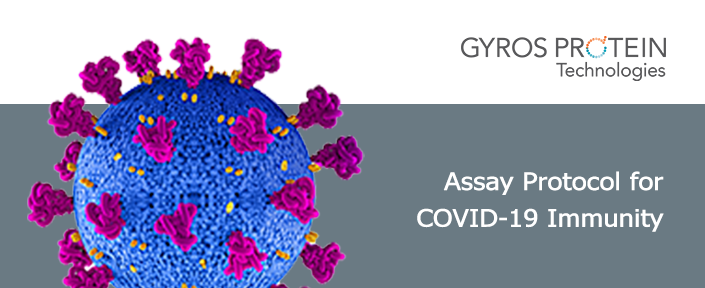 Gyrolab Assay Protocol for COVID-19 Total Antibodies
Last updated: 16th June, 2020
Products are for professional/laboratory use only. Gyros has developed a three-step bridging Gyrolab assay with a broad assay range (40 to 200,000ng/mL) for qualitative detection of total antibodies generated against the spike protein (RBD) of SARS-CoV-2 in human serum samples.
 
The assay has been tested with negative pre-pandemic human serum samples and positive controls prepared from pre-pandemic human serum spiked with various amounts of rabbit polyclonal anti-spike RBD antibodies.
 
Key Benefits of the Gyrolab SARS-CoV-2 Total Antibody Assay*:
Low reagent consumption:  Capture detection – 100 µg RBD-His => ~1 000 CDs (112 000 data points)  |  100 µg RBD-Fc => ~1 200 CDs (134 400 data points)
Low sample volume:  4 µL diluted sample

Quick data analysis time:

  ~1 h for 1 CD (112 data points)
Broad assay range:  Double digit ng/mL to ~200 µg/mL levels of antibody can be measured 
*This assay has been developed for research use only
 
The assay was developed on a Gyrolab system using the Gyrolab Bioaffy 200 CD and set up using a three-step Gyrolab method with two wash solutions and a 5% PMT setting.  
---
Summary:
Capture:

  70 nM biotinylated SARS-CoV-2 (2019-nCoV) Spike RBD-His Recombinant Protein (Sino Biological, 40592-V08H) + 630 nM biotinylated BSA (Vector Laboratories, B-2007) in PBS-T
Detection:  Alexa Fluor 647-labeled SARS-CoV-2 (2019-nCoV) Spike RBD-Fc Recombinant Protein (Sino Biological, 40592-V02H), 20 nM in Rexxip F
Positive control antibody:  SARS-CoV-2 (2019-nCoV) Spike RBD rabbit polyclonal antibody (Sino Biological, 40592-T62) in Rexxip H with 25% human serum
CD-type:  Bioaffy 200 CD
Method:  200-3W-002-A
Wash buffer for needles:  Wash buffer 1: PBS-T  |  Wash buffer 2: Gyrolab Wash Buffer pH 11
PMT-setting:  5%
Approximate range using particular PC:  Approximately 10 ng/mL to 50 000 ng/mL (40 ng/mL to 200 000 ng/mL in neat human serum). 
Time to result:  Approx. 1 hour
Sample volume:  4 μL (sample diluted 1:4)
Throughput:  56 samples in duplicate/CD
---
function resizeCTA(){
jQuery(".em_ctab__cta_main_container").each(function(){
var containerHeight = jQuery(this).outerHeight(); var containerWidth = jQuery(this).width();
var content = jQuery(this).find('.em_ctab__cta_content p'); var button = jQuery(this).find('.em_ctab__cta_button');
button.css('top', (containerHeight/2 - button.outerHeight()/2) );
var marginRight = button.outerWidth() + 25;
content.css('margin-right', marginRight);
});
}
jQuery( window ).resize(function() { resizeCTA(); });
jQuery(document).ready(function(){ resizeCTA(); });
Go Back