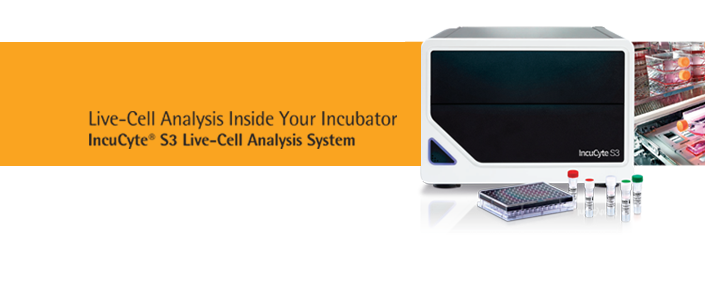 New IncuCyte S3 Live-Cell Analysis System
Last updated: 29th June, 2018
Live-Cell Analysis Inside Your Incubator



See what your cells are doing and when they do it with the IncuCyte® S3 Live-Cell Analysis System.
Change can happen in an instant. Whether simply assaying cell health or more complex processes like migration, invasion, or immune cell killing, the Next-Generation IncuCyte® S3 System, reagents and consumables allow you to continuously see what happened and when it happened — without ever removing your cells from the incubator.
The next-generation IncuCyte S3 accommodates multiple users and applications seamlessly and combines information-rich, image-based analysis with the convenience and throughput of microplate assays.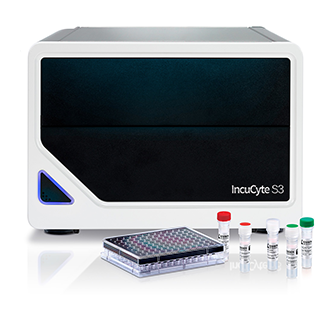 The S3 offers a simple, flexible, yet powerful workflow to support an entire research team around the clock with added new features that include…
A completely redesigned intuitive interface for ease of use
A streamlined workflow from experimental set-up to analysis and reporting
Automated data processing tools to generate publication – and presentation-ready graphs with just a few clicks
Flexibility to accommodate multiple users and run multiple applications in parallel
Remotely accessible data for any user via unlimited, free networked licenses
Never miss powerful insights again, with the NEXT-GENERATION IncuCyte® S3 live-cell analysis system and reagents.
IncuCyte S3 — Key Features
IncuCyte transforms research into a complete and powerful workflow that supports your entire research team — day and night.
Simple, flexible sample prep.  Utilize IncuCyte reagents with your choice of vessels for minimal cell perturbance
Set up & walk away.  Set up automated acquisition and analysis parameters with confidence – no need to pre-define the assay endpoint
Acquire images as long as you like.  Automatically acquire images for hours, days, or weeks
View and analyze in real-time.  Powerful image visualization and analysis tools enable real-time decision-making
Go Back