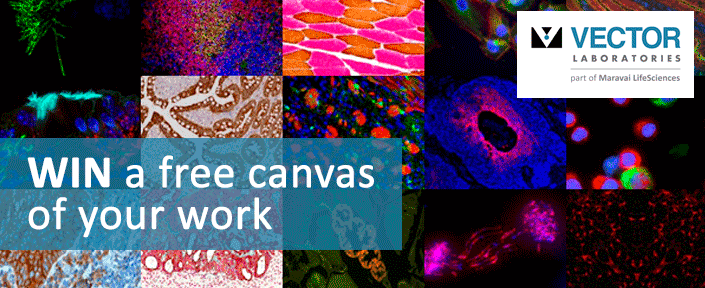 WIN a free canvas of your work
Last updated: 23rd August, 2017
You inspire us daily with the work that you do and the discoveries that you make. To celebrate your accomplishments, Vector Laboratories is having a photomicrography contest!

WIN a 60 cm x 90 cm canvas of your work.
 
Entering this photo contest is easy.
Use at least one of our Vector products in the application used to produce your photomicrographic image.
Submit your image via the below entry form by Friday 17th November 2017.

Some key Vector products include:
Vectastain ABC HRP/AP detection and ImmPress HRP/AP polymer reagents
VectaFluor Secondary Antibodies
Mouse-on-Mouse Ig blocking kit, BloxAll endogenous HRP and AP block
Hematoxylin and other coloured counterstain
VectaShield Antifade mounting media
And a lot more…
Enter with as many images as you like. Don't miss out!  That's it. Simple! No need to resize images. Please submit the highest quality possible (the best resolution image that you have).
Go Back