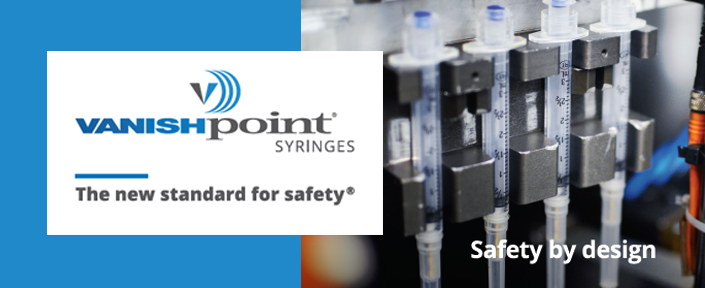 Deliver COVID-19 vaccinations with safety in mind?
Last updated: 02nd November, 2021
Products are for professional use only.  It only takes a quick search on the internet to see the statistics relating to Needle Stick Injuries (NSI):
In Australia, it has been estimated there are 18,000 reports of needle and sharps injuries to nurses and other healthcare workers each year(1)
7.6% of nurses in New Zealand (approx. 4,400) had sustained one or more NSIs in the past year(2).
Approximately half of all injuries are not reported , meaning the actual number of injuries to nurses and other healthcare workers could be much higher than we think.
Fortunately, there are safety syringes available that not only reduce the likelihood of NSI, but have the lowest dead-space in the market, meaning more doses can be delivered per vial of vaccine. 
---
Retractable Technologies Inc.
In 1989, Retractable's founder, Thomas J. Shaw, saw a television news segment about a doctor who had contracted HIV from an accidental needlestick injury. The doctor complained that design engineers were insensitive and unresponsive to the dangers faced daily by frontline healthcare workers.
Shaw, a mechanical and structural engineer, was struck by the doctor's criticism and felt compelled to act. After spending a year developing preliminary design concepts, Shaw was awarded a grant by the National Institute on Drug Abuse, a subsidiary of the National Institutes of Health (NIH), to further develop his design concepts.
---
Here are some of the safety products he created…
VanishPoint syringes have been called "the gold standard for retractable needle syringes."(3)  They are available in a variety of sizes (0.5, 1, 3, 5, and 10mL), needle gauges, and needle lengths. The needle is automatically retracted directly from the patient into the barrel of the syringe when the plunger handle is fully depressed. The pre-removal, automated retraction virtually eliminates exposure to the contaminated needle, effectively reducing the risk of needlestick injury.
VanishPoint syringes are easy to use, require no additional steps, and allow for single-handed activation. After activation, they require less disposal space than most other safety needles/syringes and prevent disposal-related needlestick injuries.
---
---
---
The new EasyPoint retractable needles feature automated retraction technology and pre-removal capability that has made Retractable Technologies the industry standard, but with added versatility. They can be used with luer lock and luer slip syringes, including pre-filled syringes. When the color-coded activation tab is pressed, the needle automatically retracts into the safety chamber and remains enclosed through disposal. Upon needle retraction, the syringe luer tip is covered, reducing the risk of exposure to medication or blood and body fluids. EasyPoint retractable needles are easy to use, allowing single-handed activation, while the clinician's fingers remain behind the exposed sharp at all times.
---
---
---
Abacus dx has been supporting healthcare workers in our region for over 10 years in using Retractable Technology products.
---
References:
Fullerton, M., & Gibbons, V. (2011). Needlestick injuries in a healthcare setting in New Zealand. New Zealand Medical Journal, 124(1335), 33-39.
Frost & Sullivan report Strategic Analysis of World Retractable Syringes Markets, Report No. A576-54, September 2003, p. 40
function resizeCTA(){
jQuery(".em_ctab__cta_main_container").each(function(){
var containerHeight = jQuery(this).outerHeight(); var containerWidth = jQuery(this).width();
var content = jQuery(this).find('.em_ctab__cta_content p'); var button = jQuery(this).find('.em_ctab__cta_button');
button.css('top', (containerHeight/2 - button.outerHeight()/2) );
var marginRight = button.outerWidth() + 25;
content.css('margin-right', marginRight);
});
}
jQuery( window ).resize(function() { resizeCTA(); });
jQuery(document).ready(function(){ resizeCTA(); });
Go Back