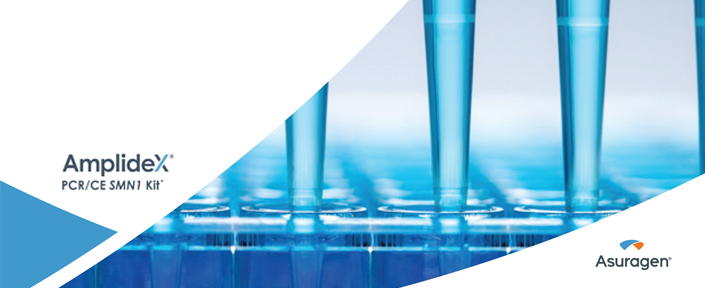 Asuragen announce the launch of AmplideX® PCR/CE SMN1 Kit for spinal muscular atrophy
Last updated: 02nd February, 2022
Products are for professional/laboratory use only.
Abacus dx would like to update you with the latest products from Asuragen.
Asuragen have recently announced the launch of AmplideX® PCR/CE SMN1 Kit for spinal muscular atrophy. This kit aims to simplify copy number determination by enabling quantification of SMN1 gene copies in as few as four hours.
The assay, which is optimized for use on widely established CE systems and requires minimal hands-on time, provides an easy-to-implement SMN1 exon 7 copy number assay for all laboratories.
Benefits of AmplideX® PCR/CE SMN1 Kit include:
A simplified workflow allowing for results in as few as four hours with only 45 minutes hands-on-time
Reduced complexity with similar workflow to the AmplideX® FMR1 assay to ease implementation and testing
Ability to differentiate between 0, 1, 2, 3 and >3 copies
Robust, reliable results with non-overlapping ratios for each copy number output
Automated analysis which allows for reporting of copy number without subjectivity
Please note this kit is currently for research use only (RUO) and CE mark will follow.
function resizeCTA(){
jQuery(".em_ctab__cta_main_container").each(function(){
var containerHeight = jQuery(this).outerHeight(); var containerWidth = jQuery(this).width();
var content = jQuery(this).find('.em_ctab__cta_content p'); var button = jQuery(this).find('.em_ctab__cta_button');
button.css('top', (containerHeight/2 - button.outerHeight()/2) );
var marginRight = button.outerWidth() + 25;
content.css('margin-right', marginRight);
});
}
jQuery( window ).resize(function() { resizeCTA(); });
jQuery(document).ready(function(){ resizeCTA(); });
Go Back