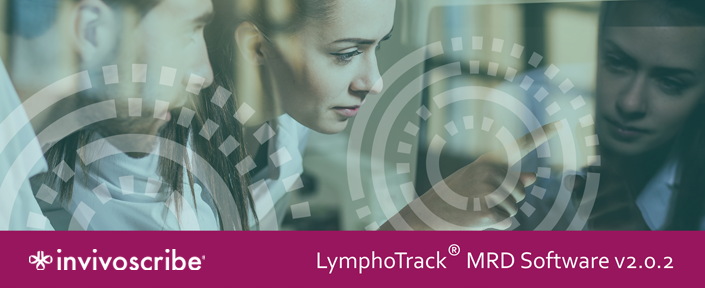 Invivoscribe LymphoTrack MRD Software v2.0.2
Last updated: 25th March, 2021
Products are for professional/laboratory use only.  LymphoTrack Dx IVD Assay kits are designed for the identification of gene arrangements in haematologic samples utilising NGS technologies.
Minimal Residual Disease (MRD) is increasingly recognised as a potential biomarker surrogate endpoint for a number of hematologic malignancy studies. Innovative Next-Generation Sequencing (NGS) Assays, DNA controls and software are necessary to enable longitudinal MRD tracking.
The Invivoscribe Bundled MRD Solution provides two types of RUO DNA controls for laboratories to test samples with low target molecules using LymphoTrack® Assays. LymphoTrack® Low Positive Controls are used as an external quality control for each run, while LymphoQuant® Internal Controls are used as an internal control to be spiked into each sample. These RUO DNA controls are developed for use with LymphoTrack® Assays and LymphoTrack® MRD software to track clonal sequences on MiSeq®, Ion S5™ and Ion PGM™ platforms with unprecedented sensitivity and specificity.
Based on customer feedback, Invivoscribe has added many new features that will improve your MRD testing workflow and efficiency. The intuitive LymphoTrack MRD Software now automatically converts target reads into clonal frequencies** for objective long-term tracking of up to 5 unique clonal sequences. This software update enables high throughput sensitive MRD testing to be brought in-house, which results in faster turnaround time (TAT) and considerable cost savings.   
---
Key Features of the LymphoTrack MRD Software v2.0.2
Updated the user interface for improved flexibility and user friendliness
Project Planner now allows user to customize the desired levels of confidence
Added the ability to Create, Save and Load previous MRD Projects (*.mrd files)
Increased tracking capability from 2 to 5 sequences per sample
Detailed MRD Reports for individual Subject time points and Summary Reports
If LymphoTrack® Low Positive Controls and LymphoQuant® Internal Controls are used,

Analyses of controls and samples are fully automated by the software
Estimations of clonal levels are automatically reported
Tables summarizing both current and historic clonal frequencies
Longitudinal graphs of clonal frequencies are automatically generated if multiple timepoints are analysed.
---
---
function resizeCTA(){
jQuery(".em_ctab__cta_main_container").each(function(){
var containerHeight = jQuery(this).outerHeight(); var containerWidth = jQuery(this).width();
var content = jQuery(this).find('.em_ctab__cta_content p'); var button = jQuery(this).find('.em_ctab__cta_button');
button.css('top', (containerHeight/2 - button.outerHeight()/2) );
var marginRight = button.outerWidth() + 25;
content.css('margin-right', marginRight);
});
}
jQuery( window ).resize(function() { resizeCTA(); });
jQuery(document).ready(function(){ resizeCTA(); });
Go Back