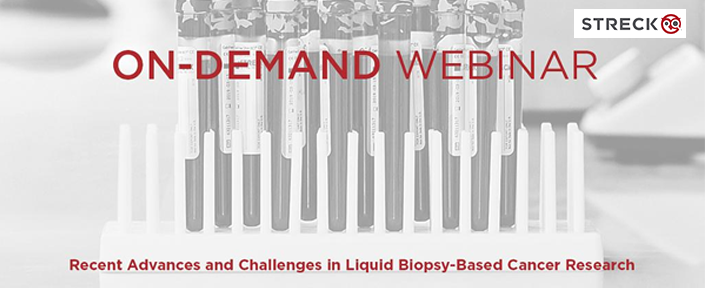 Streck liquid biopsy-based cancer research webinar
Last updated: 28th February, 2019
Recent Advances and Challenges in Liquid Biopsy-Based Cancer Research
Abacus dx is happy to be able to present to you a Streck-sponsored on-demand webinar presented by Prof. Dr. med. Stefan Holdenrieder.
 
This webinar, "Recent Advances and Challenges in Liquid Biopsy-Based Cancer Research", will provide an overview of liquid biopsy-based diagnosis and include an overview about nucleic acid-based liquid biopsy approaches in blood and other bodily fluids.
Prof. Holdenrieder will discuss key challenges for choice of appropriate materials, tubes and pre-analytical sample handling, analytical considerations regarding technologies, quality control, optimization of accuracy and data interpretation strategies.
The presentation will delineate the clinical application of liquid biopsy for diagnosis, therapy stratification, therapy and residual disease monitoring in cancer patients as well as give an outlook on new fields of diagnostic application in cardiovascular diseases and transplantation medicine.
---
Abacus dx distributes Streck tubes in Australia only.
Go Back