Ambu Patented Hygienic System
Last updated: 25th August, 2020
The Ambu® Patented Hygienic System has been protecting CPR students for over 40 years.  The design means that there is no internal cleaning, and simple disinfection for the face pieces.  Together this adds up to no cross infection between students.
How does it work?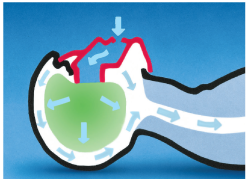 Insufflation
When air is blown through the mouth or nose of the face piece (red), the disposable head bag (green) fills. The air already inside the head of the manikin (not the student's breath) then passes into the manikin, expanding the lungs/stomach. In that way no contaminated air gets into the manikin and internal cleaning is not necessary.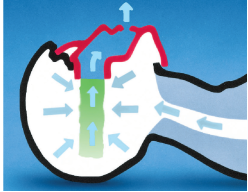 Expiration
On completion of insufflation, the 'clean' air returns towards the head and compresses the head bag. In the process, the student's air is exhaled through mouth and nose.
g
---
This design can be best seen in the Ambu Man and Ambu Baby manikins.  Both manikins have been supporting resuscitation training across Australia for over 15 years, with the cost saving benefits of the simplified Ambu Hygienic System being a bonus benefit over this time.
---
---
function resizeCTA(){
jQuery(".em_ctab__cta_main_container").each(function(){
var containerHeight = jQuery(this).outerHeight(); var containerWidth = jQuery(this).width();
var content = jQuery(this).find('.em_ctab__cta_content p'); var button = jQuery(this).find('.em_ctab__cta_button');
button.css('top', (containerHeight/2 - button.outerHeight()/2) );
var marginRight = button.outerWidth() + 25;
content.css('margin-right', marginRight);
});
}
jQuery( window ).resize(function() { resizeCTA(); });
jQuery(document).ready(function(){ resizeCTA(); });
Go Back