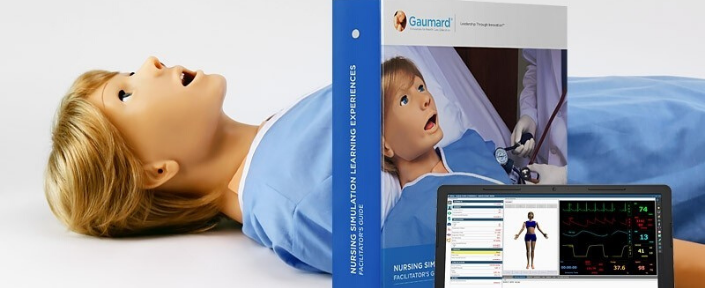 Gaumard S1001 – Nursing Care Patient Simulator
Last updated: 08th July, 2020
The new SUSIE S1001 is a wireless and tetherless patient simulator and learning resource package designed to help you deliver the most effective simulation learning experiences (SLEs) possible and ensure learners' success. SUSIE is ready-for-use out of the box for rapid integration into nursing curricula of all levels.
Perfect for both skills training and clinical simulation experiences.
SUSIE is realistic and completely wireless and tetherless. These great features enable you to deliver competency-building exercises in the skills lab and realistic clinical experiences in nearly all the environments where nursing care takes place.
A Complete Solution Built For Achieving Outcome-Focused Success
Includes 10 Nursing Simulation Learning Experiences (SLEs), a Facilitator's Guide, and Laptop PC.

FEATURES:
Pre-programmed and wireless streaming speech
Airway supports oral and nasal endotracheal intubation, feeding, suctioning, and tracheostomy care
Visible chest rise with BVM ventilation with selectable normal and abnormal lung sounds
Normal and abnormal heart sounds, rates, and intensities
Monitor, capture, pace, and cardiovert using a real defibrillator
Bilateral IV access
Measurable blood pressure and audible Korotkov sounds
Bilateral (automatic) carotid, radial, femoral, and pedal pulses
NG/OG intubation and feeding
Bowel sounds
Patent stoma sites support colostomy and ileostomy care
Rectum supports enemas
Male/Female catheterisation
Basic GYN exam and advanced breast examination
Simulation Learning Experiences™ Scenario Package
Tongue oedema and Laryngospasm
Oesophageal intubation detection and logging
Programmable respiratory rate and inspiratory/expiratory ratio
Programmable unilateral chest rise and fall
Posterior lung sounds
Detection of SpO2 monitor probe placement
OB/GYN Skills training package supplied as standard
UNI software on laptop
Transport case
---
---
function resizeCTA(){
jQuery(".em_ctab__cta_main_container").each(function(){
var containerHeight = jQuery(this).outerHeight(); var containerWidth = jQuery(this).width();
var content = jQuery(this).find('.em_ctab__cta_content p'); var button = jQuery(this).find('.em_ctab__cta_button');
button.css('top', (containerHeight/2 - button.outerHeight()/2) );
var marginRight = button.outerWidth() + 25;
content.css('margin-right', marginRight);
});
}
jQuery( window ).resize(function() { resizeCTA(); });
jQuery(document).ready(function(){ resizeCTA(); });
Go Back