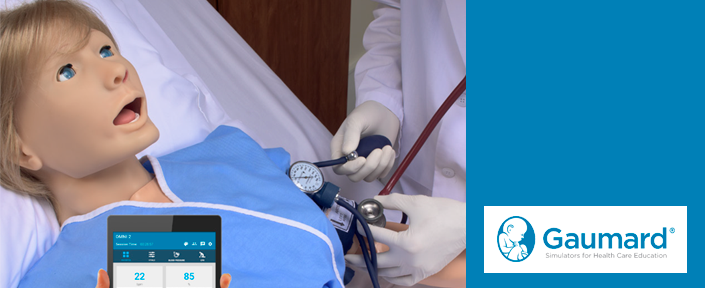 Meet the New Susie S901 Clinical Nursing Patient Simulator
Last updated: 23rd June, 2020
SUSIE® – Clinical Nursing Patient Simulator with OMNI® 2. 
Perfect for both skills training and clinical simulation experiences.
The new SUSIE S901 combines the best nursing patient simulator features with the latest evidence-based simulation methodology in one easy-to-use package. It is designed to help you deliver the most effective simulation learning experiences (SLEs) possible to ensure learners' success. SUSIE is ready-for-use out of the box for rapid integration into nursing curricula of all levels.
SUSIE is realistic and completely wireless and tetherless. This means learners can practice correct techniques and use real devices in the skills lab and apply them in team building in-situ scenarios.
Select from pre-recorded speeches or be the voice of SUSIE® and communicate with caregivers for enriched patient-provider interactions.
Normal and abnormal airway, heart, lung and bowel sounds.
Bilateral IV access for bolus and/or infusion training. Shoulder and thigh IM sites.
Practice tracheostomy care procedures including cleaning and cannula insertion safely.
Supports nasogastric feeding, and suctioning using real fluids.

Attach real ECG electrodes and monitor rhythms in real time. Capture, cardiovert, and pace using a real defibrillator and pads.

Blood pressure can be taken using a BP cuff, palpation, or auscultation methods.

Interchangeable male/female genitalia allows catheterization; rectum supports enemas and removing intestinal fluids introduced via NG tube.

eCPR™ – Monitor CPR quality metrics in real-time including rate and compression depth, no-flow time, and excessive ventilation.
---
A Complete Solution Built For Achieving Outcome-Focused Success
Includes 10 Nursing Simulation Learning Experiences (SLEs), a Facilitator's Guide, and OMNI 2 Wireless Control Interface.
Gaumard Nursing Simulation Learning Experiences
The Gaumard Nursing Simulation Learning Experiences (SLEs) provide a learning resource comprised of 10 outcome-focused scenarios designed to replicate a clinical situation. Each comes complete with a detailed facilitator guide for setting up, planning, and facilitating the learning experience.
Includes 10 interactive OMNI 2 scenarios and companion guide:
Acute Myocardial Infarction
Acute Respiratory Distress and Syndrome Secondary to Motor Vehicle Crash
Asthma Attack
Chronic Obstructive Pulmonary and Disorder Exacerbation
Fluid and Electrolyte Imbalance
Heart Failure
Hypoglycemia
New Onset Diabetes
Pneumonia
Sepsis
Each Nursing SLE includes the following key features:
Purpose of the SLE
Evidence-based rationale for the topic
Learning objectives of the SLE
Competencies addressed
Psycho-motor skills needed for successful participation
Patient's medical history
Supplies needed for the scenario
Provider's orders
Pre-briefing report to be given to students
Scenario timeline with facilitator cues
Scenario flowchart
Each Nursing SLE is mapped to the outcomes expected of graduates of nursing programs:
NCLEX-RN® Test Blueprint
BSN Essentials
QSEN competencies
IPEC core competencies
---
---
Control at Your Fingertips. Just Tap and Go.
OMNI 2 makes it easier than ever to drive scenarios, monitor performance, and capture participants' actions for data-rich debriefing sessions. OMNI 2 is simple to operate with touchscreen controls and an intuitive layout that lets you manage physiological changes while remaining focused on the training.
*Virtual Patient Monitor is an optional product
---
function resizeCTA(){
jQuery(".em_ctab__cta_main_container").each(function(){
var containerHeight = jQuery(this).outerHeight(); var containerWidth = jQuery(this).width();
var content = jQuery(this).find('.em_ctab__cta_content p'); var button = jQuery(this).find('.em_ctab__cta_button');
button.css('top', (containerHeight/2 - button.outerHeight()/2) );
var marginRight = button.outerWidth() + 25;
content.css('margin-right', marginRight);
});
}
jQuery( window ).resize(function() { resizeCTA(); });
jQuery(document).ready(function(){ resizeCTA(); });
Go Back