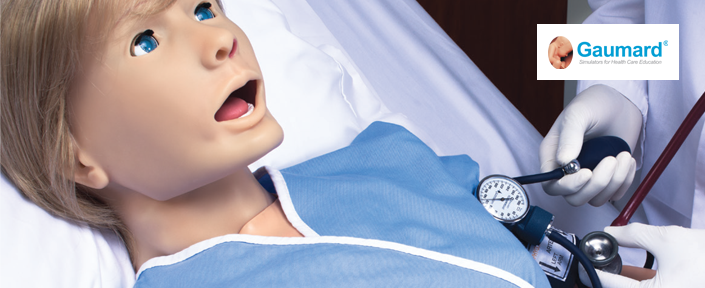 Meet Gaumard SUSIE S2000
Last updated: 23rd June, 2020
The world needs 9 million more nurses and midwives if it is to achieve universal health coverage by 2030.  That's why the World Health Assembly has designated 2020 the International Year of the Nurse and the Midwife.
A World Health Organization report1 on simulation in nursing and midwifery education supports the use of real equipment during simulation because "they enhance the realism of the scenario, allow for the acquisition of more accurate psychomotor skills, and improves students' self-confidence for future clinical practice."
Meet Gaumard SUSIE S2000 – Advanced Nursing Patient Simulator
Perfect for both skills training and clinical simulation.
SUSIE's physical and physiological features allow learners to train practical skills using real techniques, medical tools, and devices.
Realistic airway for intubation, suction, tracheostomy, and more
Functional eyes for practising PERRLA technique
Wireless streaming voice
Synchronised breathing with chest wall movement, 4-quadrant Anterior and Posterior Lung sounds, and the ability to have assisted ventilation including BVM and mechanical support
Measurement of ECG, BP, SpO2, and Blood glucose using real devices
Feeding using NG or stoma access
Interchangeable chest plate and genitalia to enable realistic catheterisation
Additionally, SUSIE's breast and gynaecological exam capabilities offer practice for learners in specialized nursing and medicine.
---
---
---
References:
1. Martins, Jose Carlos Amado, et al. "Simulation in nursing and midwifery education." World Health Organization, 2018, http://www.euro.who.int/__data/assets/pdf_file/0011/383807/snme-report-eng.pdf?ua=1. PDF. 
function resizeCTA(){
jQuery(".em_ctab__cta_main_container").each(function(){
var containerHeight = jQuery(this).outerHeight(); var containerWidth = jQuery(this).width();
var content = jQuery(this).find('.em_ctab__cta_content p'); var button = jQuery(this).find('.em_ctab__cta_button');
button.css('top', (containerHeight/2 - button.outerHeight()/2) );
var marginRight = button.outerWidth() + 25;
content.css('margin-right', marginRight);
});
}
jQuery( window ).resize(function() { resizeCTA(); });
jQuery(document).ready(function(){ resizeCTA(); });
Go Back