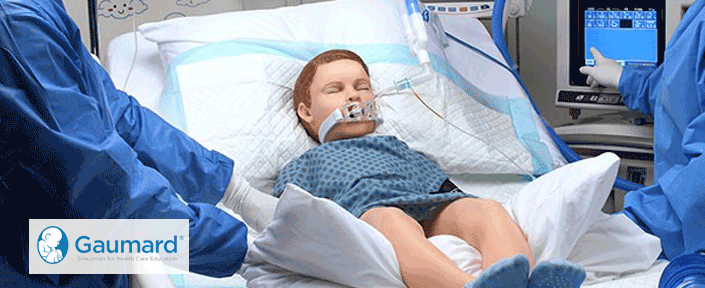 Meet Pediatric HAL – The World's Most Advanced Pediatric Patient Simulator
Last updated: 09th April, 2020
A Breakthrough in Pediatric Patient Simulation
Pediatric HAL® is the world's most advanced pediatric patient simulator and the first capable of simulating lifelike emotions through dynamic facial expressions, movement, and speech.
HAL is designed to help providers of all levels develop the specialized skills needed to effectively communicate, diagnose, and treat young patients in nearly all clinical areas.
Interactive eyes and active facial expressions
Dynamic lung compliance with true ventilator support
Real patient monitor support: SpO2, EKG, capnography, NIBP, live pacing, and defibrillation
Emergency intervention: surgical airway, needle decompression, chest tube insertion
Wireless and tetherless
A New Level of Interaction and Richer Patient-provider Communication
Through scenario-based learning, HAL can help participants assess verbal and non-verbal cues to build patient-provider communication skills and empathy. In addition to illustrating nearly a dozen facial expressions, HAL also simulates a variety of common emotional states to better approximate behavior. Simply set HAL's emotional state to lethargic, for example, and the eyelids will droop automatically, head movement will slow, and yawning will occur periodically. What's more, the powerful UNI software lets you create your own facial expressions and emotions to expand the scope of the learning experiences. The UNI library includes the following presets to get you started:
Lifelike Facial Expressions & Emotions

Truly Comprehensive Pediatric Patient Assessment Exercises
Interactive eyes and color-changing skin allow Pediatric HAL to illustrate signs of varying emotional states, trauma, and many other neurological diseases and conditions.
Accommodation test: automatic horizontal tracking and manual vertical tracking
Strabismus: exotropia and esotropia
Nystagmus: eyeball twitching
Blepharospasm: eyelid twitching
Ptosis: eyelid droop
Realistic idle eye movement
Independent pupillary light reflex
Mydriasis: blown pupil
Anisocoria: unequal pupil sizes
Programmable blinking rate
Consensual pupillary light reflex
Mild and severe seizures
Visual Cues of Neurologic and Physiologic Health

Practice Using Real Patient Monitors and Sensors
Pediatric HAL supports a broad range of real patient monitors and sensors. This unique capability allows participants to practice setting up and operating equipment just as they would in real situations.
Oximeters
Carnograph
Defibrillators
NIBP monitors
Glucose Meters
Palpable pulses: bilateral carotid, brachial, radial, and femoral
Bilateral forearm IV access supports sampling and continuous infusion
Capillary refill time testing
Blood pressure dependent pulses
Urinary catheterization with programmable flow
The Next-generation in Pediatric Advanced Life Support Simulation
Thanks to its ultra-high fidelity, anatomical, and physiological features, Pediatric HAL supports the practice of advanced-level algorithms using real tools and clinically accurate techniques.

True Mechanical Ventilation Support for Advanced Respiratory Care Simulation
Pediatric HAL responds to mechanical ventilation support using real equipment just like a real patient. Simulate the course of respiratory disease through treatment, weaning, and rehabilitation with the highest degree of physiological accuracy. The patented dynamic lung system in Pediatric HAL requires no manual calibration, external intermediary adapters or setup boxes. Simply connect HAL to the ventilator and tap the UNI controls to change lung functionality on the fly.
Ready to Integrate into Your Program with Simulation Made Easy®
Pediatric HAL is a complete learning solution and includes everything you need to get started including the powerful UNI® Tablet PC and 10 Simulation Learning Experiences.
UNI offers all the tools to deliver a rich simulation experience in one intuitive interface. It features precise physiological touch-based controls, task automation, real-time feedback, and automatic data capture tools designed to operate seamlessly during even the most complex scenarios.
---
function resizeCTA(){
jQuery(".em_ctab__cta_main_container").each(function(){
var containerHeight = jQuery(this).outerHeight(); var containerWidth = jQuery(this).width();
var content = jQuery(this).find('.em_ctab__cta_content p'); var button = jQuery(this).find('.em_ctab__cta_button');
button.css('top', (containerHeight/2 - button.outerHeight()/2) );
var marginRight = button.outerWidth() + 25;
content.css('margin-right', marginRight);
});
}
jQuery( window ).resize(function() { resizeCTA(); });
jQuery(document).ready(function(){ resizeCTA(); });
Go Back