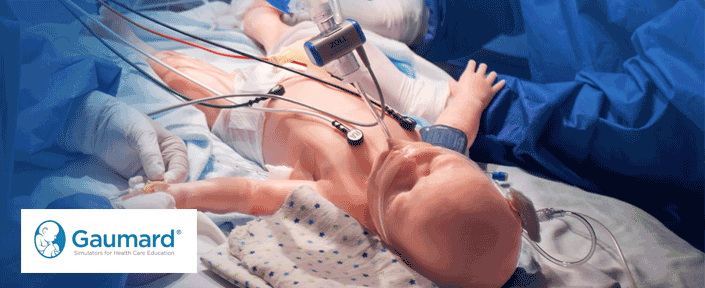 Meet Super Tory
Last updated: 22nd April, 2020
Meet the world's most advanced newborn simulator – Super Tory! d

Super Tory is the first newborn simulator developed to meet the challenges of neonatal care specialist training in real environments. Active movement, true ventilator support, real patient monitoring, and all-day battery life. These are just a few of the revolutionary new capabilities which allow Super Tory to simulate complex pathologies and respond to interventions with unparalleled realism. The next generation in simulation is here!
Super Tory offers a new kind of simulation experience. It engages the participant's emotions, promotes suspension of disbelief, and helps create lasting memories.
Super Tory Features:
Full term newborn: 3.6 kg. 53cm.
Wireless and tetherless: up to 8 hours
Smooth and supple, full-body skin
Crying and grunting
Programmable dynamic lung compliance
Normal and abnormal heart and lung sounds
Blood pressure dependent palpable pulses
Programmable movement
    

–

  Mouth: gasping and clenching
    

–

  Blinking rate, eyes opened/closed
    

–

  Arm, leg, wrist flexion, and extension
    

–

  Seizures: single limb, unilateral, or full-body movement
Train in Real Environments Using Real tools and Devices
Super Tory supports the use of real monitoring devices and sensors just like a real baby. That means participants can train in familiar settings using the very same tools and protocols that will be used in real situations.
ECG monitoring
ECG-derived respiration monitoring
Pre and postductal SpO2 monitoring
Oscillometric NIBP
Live pacing and defibrillation
Capnography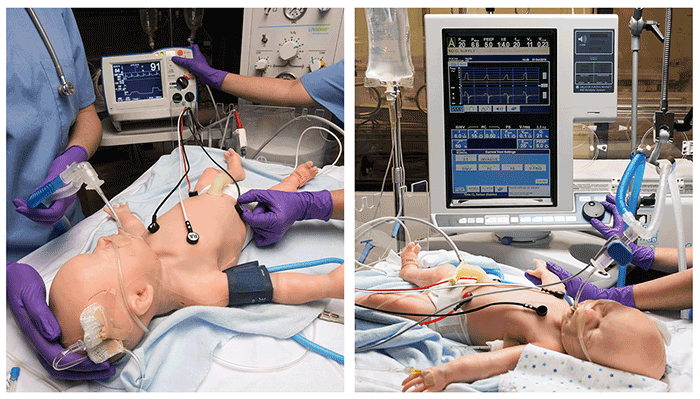 d
A Leap In NICU Simulation. True Ventilator Support. Real Patient Monitoring. And Much More.
The breakthrough respiratory system design in Super Tory accurately responds to mechanical ventilation support like a real newborn, while making it possible to adjust pulmonary function on the fly. Simply tap the UNI controls to decrease dynamic lung compliance and see the change from uniform chest rise, visible with as little as 15 cmH2O, to the high recoil associated with stiff lungs. These advanced features allow Super Tory to simulate the progression of respiratory disease through treatment, weaning, and rehabilitation with the highest degree of physiological accuracy.
function resizeCTA(){
jQuery(".em_ctab__cta_main_container").each(function(){
var containerHeight = jQuery(this).outerHeight(); var containerWidth = jQuery(this).width();
var content = jQuery(this).find('.em_ctab__cta_content p'); var button = jQuery(this).find('.em_ctab__cta_button');
button.css('top', (containerHeight/2 - button.outerHeight()/2) );
var marginRight = button.outerWidth() + 25;
content.css('margin-right', marginRight);
});
}
jQuery( window ).resize(function() { resizeCTA(); });
jQuery(document).ready(function(){ resizeCTA(); });
Go Back