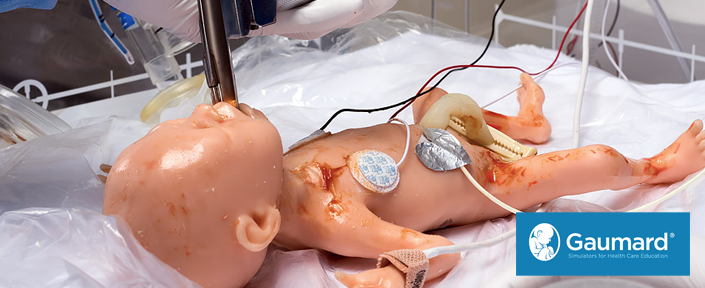 Premie HAL® S108.100 – 24-Week Preterm Newborn Skills Trainer
Last updated: 16th March, 2020
At just 590 grams, Premie HAL® is a realistic 24 week, premature infant simulator that allows participants to practice providing care from birth to NICU. Perfect for both skills training and simulation-based exercises, Premie HAL® allows providers to learn and hone skills while gaining confidence to care for the tiniest of patients.
Realistic, Pre-Term Stabilization and Resuscitation Exercises
Premie HAL® S108.100 has a lifelike, anatomically accurate oral cavity and airway which allows participants to rehearse stabilization and resuscitation for preterm infants.
Airway landmarks includes: epiglottis, glottis and vocal cords
Realistic chest recoil during CPR
Manual Pulses: Brachial, Femoral, Umbilical, and Fontanelle
Vascular access via hand, scalp, and umbilicus
Supports

     UVC/UAC sampling and infusion
     PICC line placement
True-to-life Respiratory Support Training
Premie HAL® S108.100 has realistic lungs that respond to respiratory support like a real premature infant. This allows care providers to practice advanced, neonatal respiratory care in situ and interpret actual PV waveforms.
True-to-life lung compliance
Visible chest rise following recommended flow, PIP, and PEEP values
Support standard positive-pressure ventilation devices

     BVM
     CPAP
     Mechanical Ventilators
---
Go Back