Simulab's Ultrasound Guided Lumbar Puncture range
Last updated: 16th April, 2020
Introducing Simulab's Ultrasound Guided Lumbar Puncture range, which features Lumbar Puncture Baby and Adult Lumbar Puncture/Epidural Trainer.
The Lumbar Puncture Baby Trainer simulates a two week old infant that can be positioned either lateral or decubitus for ultrasound or blind technique lumbar puncture training.
Features
Articulating vertebrae creates realism when flexing the infant in knee-chest position
L3-L4, L4-L5 and L5-S1 insertion sites
Accurate insertion gives positive response and collection of simulated cerebrospinal fluid
Epidural venous plexus vein and bony spinous process provide feedback for improper placement
Umbilicus, gluteal fold, iliac crest and L3-L5 vertebrae landmarks
Available as single trainer, training package and replaceable tissues
---
The Adult Lumbar Puncture/Epidural Trainer is available with four varieties of lifelike, ultrasound compatible replaceable tissues that mirror significant anatomical differences found in obese, geriatric, geriatric-obese, and normal patient populations. Every tissue allows users to experience variances in disc thickness and soft tissue depth on top of the vertebrae.
Features
Position on its side (lateral decubitis) or upright sitting
Re-fillable tissue for repeated procedures
Durable and replaceable tissue
Most realistic tactile feedback on the market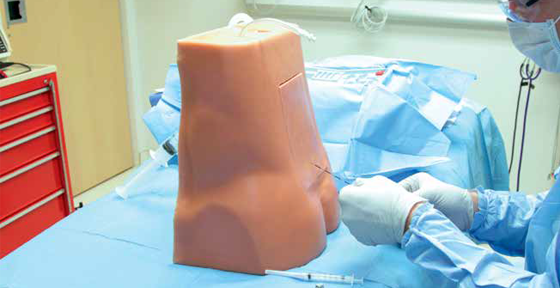 Save on Training Packages!
Both Lumbar Puncture Baby and Adult Lumbar Puncture/Epidural Trainer can be purchased as part of a training package whereby you will receive an additional replaceable tissue.
---
Go Back