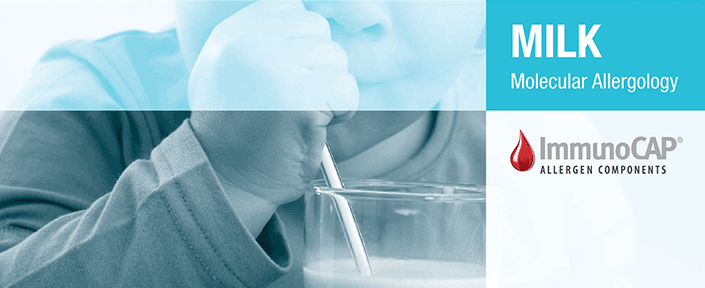 New Levels of Allergy Management: Milk Components
Last updated: 02nd February, 2022
Products are for professional/laboratory use only.
An allergy diagnosis is based on the history, clinical symptoms and physical examination of the patient in combination with results of sIgE tests.
ImmunoCAP® Molecular Allergology takes the diagnosis and management of allergy to a whole new level. The technology uses single allergen components to quantitatively detect IgE antibodies. A single blood sample enables measurement to all available ImmunoCAP components, providing precise results for better risk assessment. ImmunoCAP Allergen Components help differentiate "true" allergies from symptoms due to cross-reactivity, evaluate the risk of severe reactions and help in defining the optimal specific immunotherapy treatment. Benefits that ultimately can improve the patient's quality of life.
The prevalence of milk allergy in young children is ~2%. Most milk allergic patients are sensitized to several milk components.
Cow's milk contains several proteins that could each in principle elicit an allergic reaction in a sensitized individual. Some of these proteins  are considered major allergens, some minor ones, while others have rarely or never been associated with reports of clinical reactions. The main allergens of cow's milk are distributed among the whey and casein fractions. 80% of the milk protein content is Casein; the remaining 20% are the whey proteins.
Bos d 8 (Casein) is a major milk allergen and an allergen stable to heat & digestion. High levels indicate allergy to both fresh and baked milk. Patients sensitised to Bos d 8/Casein can also be at risk of severe reactions upon intake of non-dairy products in which Casein may be used as an additive (e.g. sausage, chocolate and potato chips).
Milk whey contains proteins such as beta-lactoglobulin, alpha-lactalbumin, serum albumin and transferrin. They are rather heat labile and therefore destroyed by cooking.
Bos d 6 (serum albumin) is a main allergen in beef. It's a risk marker for systemic reactions e.g. in artificial insemination  and cell therapy treatment or other procedures involving infusion of albumin-containing medium.
Early signs of tolerance development can be detected by following the Casein IgE levels over time and may help in the decision when to perform a challenge. Thus, component testing can contribute to improved quality of life for the patient.
---
---
function resizeCTA(){
jQuery(".em_ctab__cta_main_container").each(function(){
var containerHeight = jQuery(this).outerHeight(); var containerWidth = jQuery(this).width();
var content = jQuery(this).find('.em_ctab__cta_content p'); var button = jQuery(this).find('.em_ctab__cta_button');
button.css('top', (containerHeight/2 - button.outerHeight()/2) );
var marginRight = button.outerWidth() + 25;
content.css('margin-right', marginRight);
});
}
jQuery( window ).resize(function() { resizeCTA(); });
jQuery(document).ready(function(){ resizeCTA(); });
Go Back