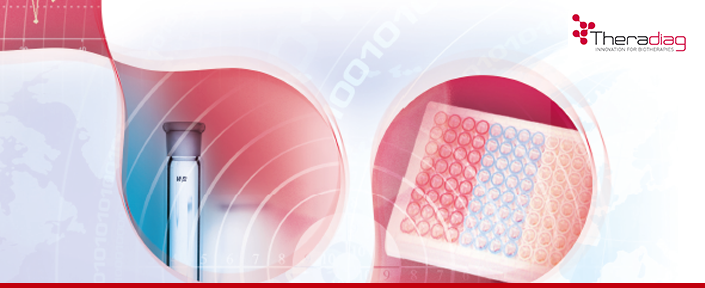 New IMMUNO-TROL Diabetes panel from Theradiag now available
Last updated: 02nd February, 2022
Products are for professional/laboratory use only.
Theradiag IMMUNO-TROL Quality Controls are unassayed non-kit controls. This means that the controls do not have values or reference ranges assigned by the manufacturer. Values reported by each control will be specific to the laboratory assay methodology.
Theradiag IMMUNO-TROL is available for 3 different testing groups:
Autoimmune antibodies in isotype specific groups including IgG, IgM or IgA.
Phadia specific coeliac antibodies including tTg and DGP IgA and IgG isotypes.
LISA TRACKER set for therapeutic drug monitoring for drug and anti-drug antibodies.
The new IMMUNO-TROL diabetes set will allow for an expanded range of autoimmune controls across the entire IMMUNO-TROL portfolio.
Why use Theradiag IMMUNO-TROL:
Disease specific controls to allow for more efficient use of QC material
Relevant range of antibodies for each disease isotype
Collection of multiple data points over a long period of time
Determination of Measurement of Uncertainty
Development of reference ranges for each specific laboratory assay
Monitoring assay lot to lot variation.
The table below outlines the full set of IMMUNO-TROL autoantibody controls available.
| Cat # | IMMUNO-TROL   | Antibodies |
| --- | --- | --- |
| BMHM0605 | IMMUNO-TROL CONNECTIVE 1 | dsDNA [level 1] SSA60, Ro52, SSB, Sm, RNP |
| BMHM0615 | IMMUNO-TROL CONNECTIVE 2 | dsDNA [level 2] Scl-70, Centromere, Jo-1, Ribo P |
| BMHM0625 | IMMUNO-TROL APS IgG | aCL IgG, B2GPI IgG, Prothrombin IgG |
| BMHM0635 | IMMUNO-TROL APS IgM | aCL IgM, B2GPI IgM, Prothrombin IgM |
| BMHM0645 | IMMUNO-TROL RHEUMA | CCP IgG, RF human and animal IgM |
| BMHM0655 | IMMUNO-TROL THYRO | TPO, TG, R-TSH |
| BMHM0665 | IMMUNO-TROL CYTO | Ribo P, Mito M2 |
| BMHM0675 | IMMUNO-TROL VASCULITIS & dsDNA | MPO, PR3, GBM, dsDNA, |
| BMHM0685 | IMMUNO-TROL GASTRITIS          | A-PCA, Intrinsic Factor |
| BMHM0695 | IMMUNO-TROL CELIAC G | tTG IgG, DPG IgG, Gliadin IgG |
| BMHM069LL | IMMUNO-TROL CELIAC G for Phadia 20x1ml | tTG IgG, DPG IgG, Gliadin IgG |
| BMHM0705 | IMMUNO-TROL CELIAC A | tTG IgA, DPG IgA, Gliadin IgA |
| BMHM070LL | IMMUNO-TROL CELIAC A for Phadia 20x1ml | tTG IgA, DPG IgA, Gliadin IgA |
| BMHM071 | IMMUNO-TROL ASCA G+A 2×0.5ml | ASCA IgG and IgA |
| BMHM072 NEW | IMMUNO-TROL Diabetes | GAD, IA2, ZNT8 |
---
---
function resizeCTA(){
jQuery(".em_ctab__cta_main_container").each(function(){
var containerHeight = jQuery(this).outerHeight(); var containerWidth = jQuery(this).width();
var content = jQuery(this).find('.em_ctab__cta_content p'); var button = jQuery(this).find('.em_ctab__cta_button');
button.css('top', (containerHeight/2 - button.outerHeight()/2) );
var marginRight = button.outerWidth() + 25;
content.css('margin-right', marginRight);
});
}
jQuery( window ).resize(function() { resizeCTA(); });
jQuery(document).ready(function(){ resizeCTA(); });
Go Back