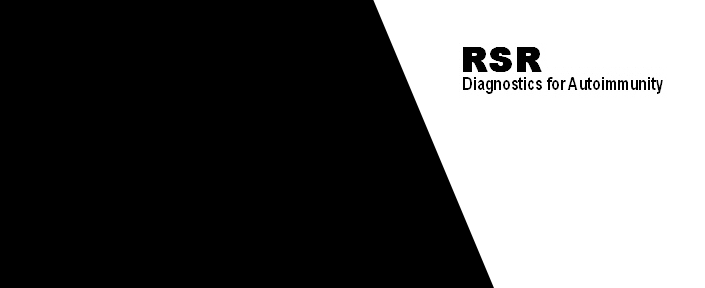 RSR ELISA and RIA Kits for Type 1 Diabetes Mellitus
Last updated: 03rd February, 2022
Products are for professional/laboratory use only.
Diabetes is a major healthcare issue across ANZ affecting over 1.7 million Australians and over 200,000 New Zealanders. It is the fastest growing chronic condition with 280 new cases diagnosed every day in Australia alone.
---
There are four types of diabetes:
Type 1 – accounts for 10% of all diabetes and is increasing
Type 2 – accounts for 85% of all diabetes and is increasing
Pre-diabetes
Gestational diabetes
---
Type 1 diabetes mellitus (T1DM) is a cell mediated chronic autoimmune condition resulting in destruction of pancreatic islet B-cells, leading to insulin deficiency. Autoantibodies to four major islet cell proteins have been identified as diagnostic markers for T1DM:
Insulin – IA
Glutamic acid decarboxylase 65 – GAD65
Insulinoma antigen 2 – IA-2 (a tyrosine phosphatase)
Zinc transporter 8 – ZnT8
---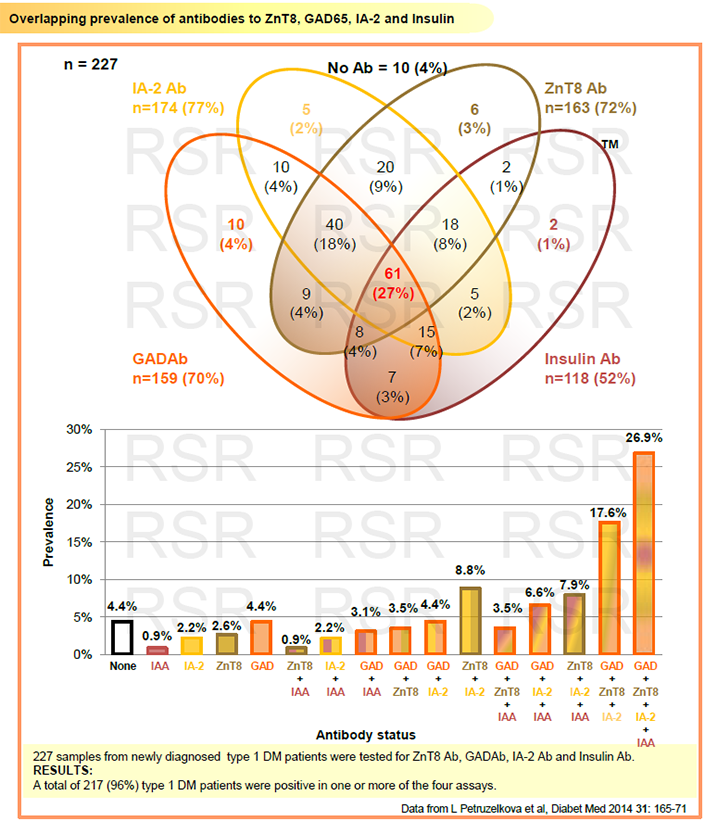 f
---
Abacus dx offer a range of products for the diagnosis and monitoring of T1DM.  RSR are leading manufacturers in high-quality ELISA and RIA kits. Their new generation ELISAs provide a level of sensitivity equivocal to the RIA assays.
| | |
| --- | --- |
| ELISA | RIA |
| RSR™ GAD Ab | RSR™IAA |
| RSR™IA-2 Ab version 2 | |
| RSR™3 Screen ICA™ | |
| Fast RSR™Znt8 – NEW 4 hr TAT | |
---
RSR have developed a new generation ELISA for IA-2 Ab and GAD Ab with sensitivity as high as the current RIA assays. An IA-2 or GAD specific label, IA-biotin or GAD-biotin, binds the to patients antibodies and and specific IA-2 or GAD antigen coated wells.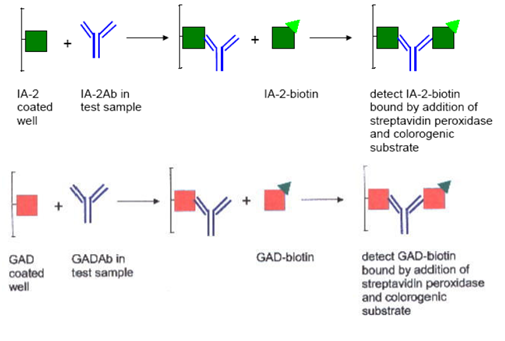 f
---
function resizeCTA(){
jQuery(".em_ctab__cta_main_container").each(function(){
var containerHeight = jQuery(this).outerHeight(); var containerWidth = jQuery(this).width();
var content = jQuery(this).find('.em_ctab__cta_content p'); var button = jQuery(this).find('.em_ctab__cta_button');
button.css('top', (containerHeight/2 - button.outerHeight()/2) );
var marginRight = button.outerWidth() + 25;
content.css('margin-right', marginRight);
});
}
jQuery( window ).resize(function() { resizeCTA(); });
jQuery(document).ready(function(){ resizeCTA(); });
Go Back