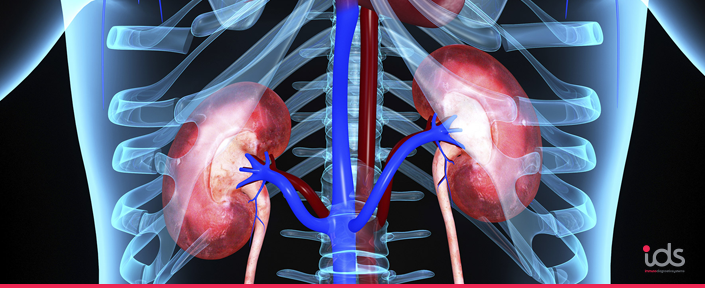 Automated solution for measurement of TRAcP 5b in renal patients
Last updated: 02nd February, 2022
Products are for professional/laboratory use only.
TRAcP is an enzyme that is released from active osteoclasts, macrophages and dendritic cells1.  There are two isoforms found in circulation; 5a is released from macrophages and dendritic cells whereas the 5b form is specific to active osteoclasts.
Relative to other bone resorption markers, circulating levels of TRAcP 5b display limited diurnal variation2 and are unaffected by the fasting status of the patient, allowing the sample collection to be taken at any time of day.
As TRAcP 5b is cleared from circulation by the liver3, kidney function has no effect on serum TRAcP 5b levels2,4; thereby making this a potentially useful marker in patients with impaired renal function.
Clinical Value
Only automated solution for measurement of TRAcP 5b in patient sera
Only marker reflecting bone degradation suitable for use with renal patients
Excellent sensitivity and reproducible results – providing a useful tool in therapy monitoring
A complete clinical assay panel supporting bone disease management
---
---
References
1. Halleen JM. et al. Tartrate-resistant acid phosphatase 5b (TRACP 5b) as a marker of bone resorption. Clin Lab. 2006;52(9-10):499-509.
2. Halleen JM. et al. Serum Tartrate-resistant Acid Phosphatase 5b is a Specific and Sensitive Marker of Bone Resorption. Clin Chem. 2001;47(3):597-600.
3. Saunders PT. et al. The carbohydrate structure of porcine uteroferrin and the role of the high mannose chains in promoting uptake by the reticuloendothelial cells of the fetal liver. J Biol Chem. 1985; 260:3658-3665.
4. Hannon RA. et al. Clinical performance of immunoreactive tartrate resistant acid phosphatase isoform 5b as a marker of bone resorption. Bone. 2004; 34:187-194.
function resizeCTA(){
jQuery(".em_ctab__cta_main_container").each(function(){
var containerHeight = jQuery(this).outerHeight(); var containerWidth = jQuery(this).width();
var content = jQuery(this).find('.em_ctab__cta_content p'); var button = jQuery(this).find('.em_ctab__cta_button');
button.css('top', (containerHeight/2 - button.outerHeight()/2) );
var marginRight = button.outerWidth() + 25;
content.css('margin-right', marginRight);
});
}
jQuery( window ).resize(function() { resizeCTA(); });
jQuery(document).ready(function(){ resizeCTA(); });
Go Back