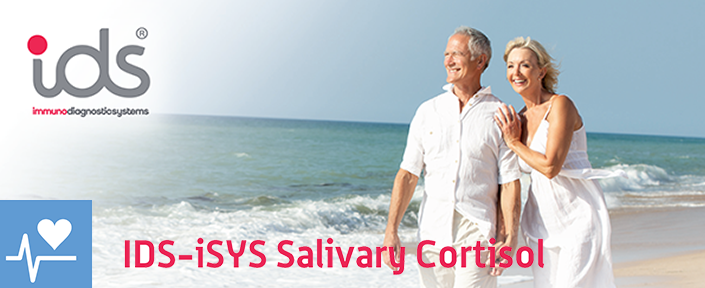 IDS-iSYS Salivary Cortisol
Last updated: 02nd February, 2022
Products are for professional/laboratory use only.
Immunodiagnostic Systems (IDS) has released the IDS-iSYS Salivary Cortisol assay for use on the IDS-iSYS Multi-Discipline Automated System family.

Together with the planned addition of the IDS-iSYS Cortisol test for use with human serum, plasma and urine samples and the IDS-iSYS ACTH in 2016, laboratories can consolidate the assessment of Cushing's syndrome and other disturbances of the hypothalamic pituitary adrenal axis1-4 on the IDS-iSYS Multi-Discipline Automated System.
The IDS-iSYS Salivary Cortisol assay will provide the following benefits to you: 
The assay is fully automated, with less than 8 minutes time to first results, allowing you to efficiently provide accurate biologically active plasma free cortisol results.

The assay calibrators are traceable to an isotope dilution-mass spectrometry (ID-MS).

The assay has excellent precision, functional sensitivity (0.02 μg/dL) and an assay measurable range (0.02-3.00μg/dL), giving you further confidence in the quality of assay results
---
References:
David W., The Immunoassay Handbook. Third Edition. D.Wild (Ed.) Published by Elsevier Ltd. 2005.
Yaneva M., Mosnier-Pudar H., Dugue M-A., Grabar S., Fulla Y. and Bertagna X., 'Midnight salivary cortisol for the initial diagnosis of Cushing's syndrome and various causes'. J Clin Endocrinol Metab, 89(7), 2004, pp 3345-3351.
Aardal, E. and Holm, A-C., 'Cortisol in saliva – reference ranges and relation to cortisol in serum'. Eur J Clin Chem Clin Biochem, 33, 1995, 927-932.
Rossi GP., Seccia TM. and Pessina AC., 'Clinical use of laboratory tests for the identification of secondary forms of arterial hypertension'. Crit Rev Clin Sci, 44(1), 2007, pp 1-85.
function resizeCTA(){
jQuery(".em_ctab__cta_main_container").each(function(){
var containerHeight = jQuery(this).outerHeight(); var containerWidth = jQuery(this).width();
var content = jQuery(this).find('.em_ctab__cta_content p'); var button = jQuery(this).find('.em_ctab__cta_button');
button.css('top', (containerHeight/2 - button.outerHeight()/2) );
var marginRight = button.outerWidth() + 25;
content.css('margin-right', marginRight);
});
}
jQuery( window ).resize(function() { resizeCTA(); });
jQuery(document).ready(function(){ resizeCTA(); });
Go Back