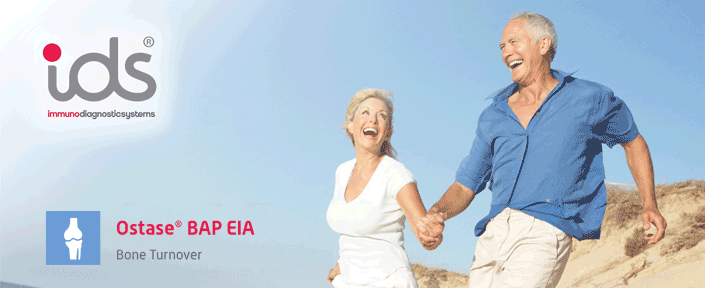 IDS Ostase BAP EIA for the quantitative measurement of bone-specific alkaline phosphatase
Last updated: 02nd February, 2022
Products are for professional/laboratory use only.
The Ostase® BAP EIA Immunoenzymetric Assay is an in vitro device indicated for the quantitative measurement of bone-specific alkaline phosphatase (BAP), an indicator of osteoblastic activity in human serum.
This device is intended to be used as an aid in the management of postmenopausal osteoporosis and Paget's disease.
Features and benefits:
Measurement of enzyme activity.
Suitable for measurement of a variety of sample types.
Excellent sensitivity and reproducible results – providing a useful tool in therapy monitoring.
Supported by a comprehensive portfolio of both bone formation and resorption markers.
---
Bone Turnover Markers:
A Unique Comprehensive Approach to Bone Turnover Management 
Immunodiagnostic Systems Limited (IDS) offers a unique and full panel of bone turnover markers, for the measurement and monitoring of bone resorption and formation. Our complete bone offering provides the tools for research and routine clinical laboratories, to provide highly accurate and reliable results.
Ordering Information:
Ostase BAP EIA (96 wells) AC-20F1
Complimentary Products:
Alpha CrossLaps (CTX-1) ELISA (96 wells) AC-04F1
BoneTRAP (TRAcP 5b) ELISA (96 wells) SB-TR201A
N-MID Osteocalcin ELISA (96 wells) AC-11F1
Serum CrossLaps (CTX-1) ELISA (96 wells) AC-02F1
Urine BETA CrossLaps (CTX-1) ELISA (96 wells) AC-05F1
Urine CrossLaps (CTX-1) ELISA (96 wells) AC-03F1
function resizeCTA(){
jQuery(".em_ctab__cta_main_container").each(function(){
var containerHeight = jQuery(this).outerHeight(); var containerWidth = jQuery(this).width();
var content = jQuery(this).find('.em_ctab__cta_content p'); var button = jQuery(this).find('.em_ctab__cta_button');
button.css('top', (containerHeight/2 - button.outerHeight()/2) );
var marginRight = button.outerWidth() + 25;
content.css('margin-right', marginRight);
});
}
jQuery( window ).resize(function() { resizeCTA(); });
jQuery(document).ready(function(){ resizeCTA(); });
Go Back