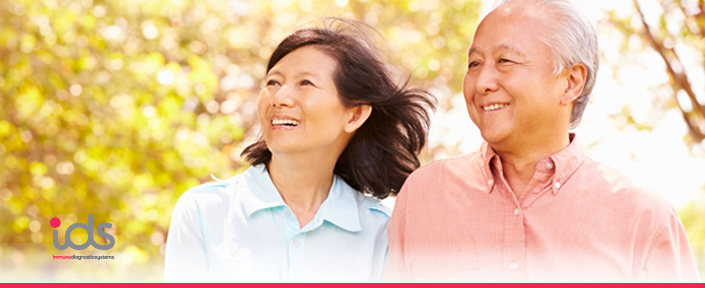 IDS unique products in cartilage health research and diagnostics
Last updated: 27th June, 2023
Products are for professional/laboratory use only.
IDS cartilage markers, supporting early identification of cartilage damage by providing dynamic assessment of cartilage destruction.
Human COMP® ELISA

 

Urine CartiLaps® (CTX-II) EIA

The COMP® ELISA is a quantitative enzyme-linked immunosorbent assay for the determination of Cartilage Oligomeric Matrix Protein (COMP) in human serum.

The presence of elevated levels, when considered in conjunction with other laboratory and clinical findings, is an aid in identifying aggressive destruction of joint tissue in diseases such as rheumatoid arthritis.

The Urine CartiLaps® (CTX-II) EIA detects degradation products of C-terminal telopeptides of type II collagen.

It is intended for in-vitro diagnostic use as an indication of degradation of cartilage and may be used as an aid for:

Quantitative assessment of disease activity (structural damage of articular cartilage) in patients with rheumatoid arthritis and osteoarthritis.
Prognosis of disease activity in patients with rheumatoid arthritis and osteoarthritis, and early assessment of long-term effect of therapy in patients with rheumatoid arthritis.
---
Features and benefits
• Unique assays for detection of CTX-II and COMP.
• Utilises monoclonal antibodies allowing increased confidence in consistency of product over time without changes in specificity etc. due to different bleeds.
• Ready to use reagents reduces hands-on time for assay preparation and streamlines testing.
• Long shelf life provides a cost-effective solution by reducing wastage due to expired kits.
• Suitable for inclusion on automated plate systems to simplify scale-up of testing volume.
• Supported by comprehensive panel of pre-clinical and clinical markers for assessment of cartilage metabolism.
---
The role of COMP1-5 and CTX-II6-10 in cartilage health has been addressed in several scientific publications.
Publications:
1 Serum levels of cartilage oligomeric matrix protein (COMP) increase temporarily after physical exercise in patients with knee osteoarthritis – PubMed (nih.gov)
2 Serum levels of cartilage oligomeric matrix protein (COMP): a rapid decrease in patients with active rheumatoid arthritis undergoing intravenous steroid treatment – PubMed (nih.gov)
3 Changes in synovial fluid and serum concentrations of cartilage oligomeric matrix protein over 5 years after anterior cruciate ligament rupture: an exploratory analysis in the KANON trial – PubMed (nih.gov)
4 Serum levels of cartilage oligomeric matrix protein. A predicting factor and a valuable parameter for disease management in rheumatoid arthritis – PubMed (nih.gov)
5 Association between changes in molecular biomarkers of cartilage matrix turnover and changes in knee articular cartilage: a longitudinal pilot study – PubMed (nih.gov)
6 Increased urinary type II collagen helical and C telopeptide levels are independently associated with a rapidly destructive hip osteoarthritis – PMC (nih.gov)
7 Cartilage oligomeric matrix protein, C-terminal cross-linking telopeptide of type II collagen, and matrix metalloproteinase-3 as biomarkers for knee and hip osteoarthritis (OA) diagnosis: a systematic review and meta-analysis (oarsijournal.com)
8 Urinary CTX‐II levels are associated with radiographic subtypes of osteoarthritis in hip, knee, hand, and facet joints in subject with familial osteoarthritis at multiple sites: the GARP study – PMC (nih.gov)
9 Urinary type II collagen C-telopeptide levels are increased in patients with rapidly destructive hip osteoarthritis – PMC (nih.gov)
10 Clinical and biochemical factors associated with risk of total joint replacement and radiographic progression in osteoarthritis: Data from two phase III clinical trials – PubMed (nih.gov)
function resizeCTA(){
jQuery(".em_ctab__cta_main_container").each(function(){
var containerHeight = jQuery(this).outerHeight(); var containerWidth = jQuery(this).width();
var content = jQuery(this).find('.em_ctab__cta_content p'); var button = jQuery(this).find('.em_ctab__cta_button');
button.css('top', (containerHeight/2 - button.outerHeight()/2) );
var marginRight = button.outerWidth() + 25;
content.css('margin-right', marginRight);
});
}
jQuery( window ).resize(function() { resizeCTA(); });
jQuery(document).ready(function(){ resizeCTA(); });
Go Back