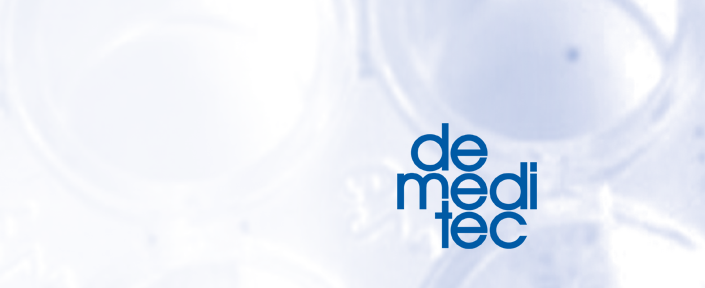 Introducing the NEW Demeditec AMH ELISA
Last updated: 20th September, 2020
Products are for professional/laboratory use only.  We are pleased to announce the launch of the new Demeditec AMH ELISA.
Clinical Application:
AMH (Anti-Mullerian Hormone) is the ideal marker in reproductive medicine, as it gives information on ovarian reserve. It becomes particularly relevant in family planning, unfulfilled desire for children, sterility therapy or and menopause onset.
Furthermore, AMH contributes in the diagnosis of certain diseases such as granulosa cell tumors or polycystic ovary syndrome (PCOS).
---
Advantages of AMH ELISA:
Short Assay Time
Short Hands-on Time
Components Ready-to-use
Standards Calibrated against 1st WHO International Reference Reagent, Mullerian Inhibiting Substance/Anti-Mullerian Hormone, NIBSC code:16/190
Two controls included
Good Correlation to the Gold Standard Method
Good Assay Performance (Validated according to CLSI Guidelines)
Labelled for IVD use
---
Differences of Demeditec AMH ELISA to others:  
No pre-dilution of samples
Reagents ready to use (except Wash Solution)
No shaker or incubator needed
Assay procedure straight forward
Shortest assay time compared to competition!
Very good sensitivity and precision
No cross-reactivity to relevant substances
---
Assay Details:
Enzyme immunoassay for the quantitative measurement of Anti-Müllerian Hormone (AMH) in serum or plasma.
| | |
| --- | --- |
| Method | ELISA |
| Product Code | DE6141 |
| Tests | 96 wells |
| Incubation Time / Conditions | 1 h, 15 min (RT) |
| Standard Range | 0.4 – 20.0 ng/ml |
| Sensitivity analytical | 0.044 ng/ml |
| Sample Volume | 25 µl |
| Sample Type | serum, plasma (EDTA, lithium, heparin) |
| Sample Pre-treatment | – |
| Isotope / Substrate | TMB 450 nm |
| kBq | – |
| Internal Controls | 2 |
| Regulatory Status | CE |
This ELISA is based on the sandwich principle.
Demeditec can confirm that the antibodies used in their two assays do not infringe the Beckman Coulter patents as their antibodies do not bind to the patented region of AMH.
Method Comparison to Roche Reference Tests: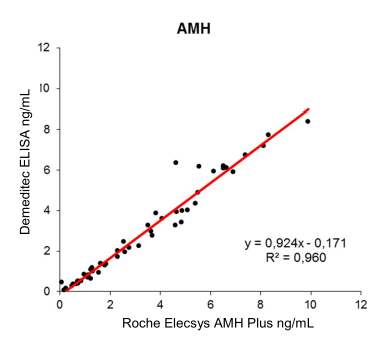 ---
---
function resizeCTA(){
jQuery(".em_ctab__cta_main_container").each(function(){
var containerHeight = jQuery(this).outerHeight(); var containerWidth = jQuery(this).width();
var content = jQuery(this).find('.em_ctab__cta_content p'); var button = jQuery(this).find('.em_ctab__cta_button');
button.css('top', (containerHeight/2 - button.outerHeight()/2) );
var marginRight = button.outerWidth() + 25;
content.css('margin-right', marginRight);
});
}
jQuery( window ).resize(function() { resizeCTA(); });
jQuery(document).ready(function(){ resizeCTA(); });
Go Back