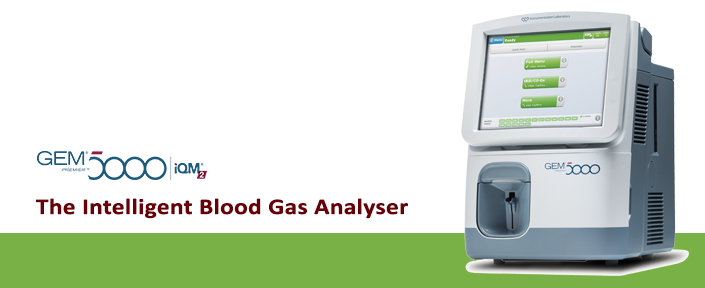 Introducing the GEM Premier 5000
Last updated: 03rd February, 2022
Products are for professional/laboratory use only.
New GEM Premier 5000 blood gas testing system provides automated quality assurance with every sample.  
Now with next-generation Intelligent Quality Management (iQM2), featuring new IntraSpect™ technology, potential errors are detected not only before and after, but also during sample analysis, along with real-time correction and documentation.  Plus, it's simple—just change the all-in-one GEM PAK once a month.  So regardless of testing location or point-of-care operator, quality results and compliance are assured with every sample on the portable GEM Premier 5000 system. 
Assuring quality before, during and after sample analysis—for improved patient care.
Real-time assurance and advanced simplicity
The GEM Premier 5000 whole blood testing system measures blood gases, pH, electrolytes, metabolites, CO-Oximetry and more. iQM2 provides real-time assurance, the all-in-one, multi-use GEM PAK offers advanced simplicity and GEMweb Plus Custom Connectivity allows complete control of point-of-care testing.
Abacus dx is the exclusive distributor of Instrumentation Laboratory Blood Gas Analysers in New Zealand only.
Real-time quality assurance, everywhere
iQM2 with IntraSpect technology provides intelligent analyzing—automated quality assurance, continuously and in real-time, unlike traditional (auto or manual) QC offerings. With real-time detection, iQM2 performs continuous checks—before, during and after every sample. Error detection time is reduced from hours to minutes and errors automatically corrected and documented for a complete picture of quality with each and every sample.
Advanced simplicity
All-in-one, multi-use, GEM PAK offers advanced simplicity at every point-of-care. Fully self contained, the GEM PAK automates the most labor-and skill-intensive processes and is available in multiple menu and test volume configurations, GEM PAKs have a use-life of 31-days and require no refrigeration**. They allow ultimate flexibility for point-of-care testing needs throughout the hospital.
Management and compliance simplified
GEMweb Plus 500 Custom Connectivity is designed to simplify operator supervision and quality management with full traceability. All from a single interface, whether accessed in the lab, at the point-of-care or remotely from an analyzer, PC or tablet device, GEMweb Plus 500 provides customizable and automated functionality for complete control of analyzers and operators.
** 21-day onboard use-life for 600-test PAK
function resizeCTA(){
jQuery(".em_ctab__cta_main_container").each(function(){
var containerHeight = jQuery(this).outerHeight(); var containerWidth = jQuery(this).width();
var content = jQuery(this).find('.em_ctab__cta_content p'); var button = jQuery(this).find('.em_ctab__cta_button');
button.css('top', (containerHeight/2 - button.outerHeight()/2) );
var marginRight = button.outerWidth() + 25;
content.css('margin-right', marginRight);
});
}
jQuery( window ).resize(function() { resizeCTA(); });
jQuery(document).ready(function(){ resizeCTA(); });
Go Back