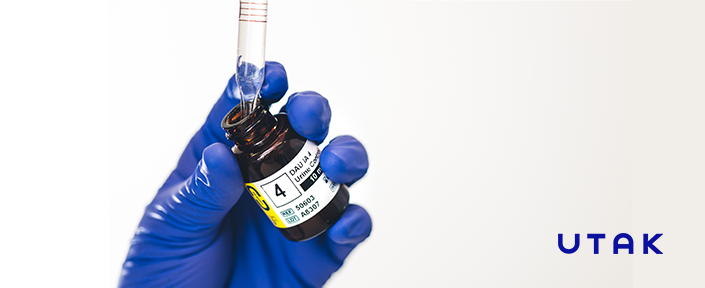 New product, UTAK's 100% Real Quality Controls
Last updated: 20th March, 2023
Products are for professional/laboratory use only.
Abacus dx is pleased to announce the launch of UTAK products, 100% Real Quality Controls.
UTAK provides the critical control you need to improve patient care and deliver accurate results.
100% REAL Blank Human Matrices 
No preservatives
No stabilizers
No stripping
No fortification with animal products
Specialty SMx Matrices
Consistent lot to lot accuracy
Easy to store
No need for hazardous waste
Precautions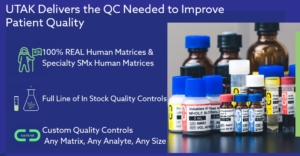 ---
UTAK, founded in 1973, originated the manufacturing of complex, personalised quality controls, making controls that no one else could. And they are still doing it today.
UTAK has been sourcing 100% REAL human matrices and the purest analytes possible, to provide labs with the controls they need for every kind of analysis.
UTAK crafts 100% real quality controls, reducing risk and cost for laboratories one control freak at a time.
Custom controls, unmatched flexibility Brand new? Unexpected? Pioneering? Dare we say… impossible? Yes, you're at the right place.
Simple, elegant solutions. Sophisticated, custom service. Precision-crafted products. UTAK create flexible third-party quality controls designed for the unique needs of today's diagnostic labs. You're pushing the boundaries of what's possible. We're here to help. 
function resizeCTA(){
jQuery(".em_ctab__cta_main_container").each(function(){
var containerHeight = jQuery(this).outerHeight(); var containerWidth = jQuery(this).width();
var content = jQuery(this).find('.em_ctab__cta_content p'); var button = jQuery(this).find('.em_ctab__cta_button');
button.css('top', (containerHeight/2 - button.outerHeight()/2) );
var marginRight = button.outerWidth() + 25;
content.css('margin-right', marginRight);
});
}
jQuery( window ).resize(function() { resizeCTA(); });
jQuery(document).ready(function(){ resizeCTA(); });
Go Back